EXOTERIK Butterfly In Your Hand (2009)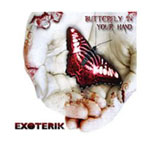 I have to confess I was expecting the worst from Exoterik. Firstly there's the deliberately misspelled moniker, and I don't know what it was - probably the band's publicity shots - but I was pretty sure I was going to get a hefty dose of 'beardy' metal. You know the sort of thing - more hair under the chin than on it, and severe bombastic riffing / head bobbing guaranteed to lead to musculoskeletal disorders later in life.
And in some respects I wasn't disappointed. Because Exoterik's modus operandi is based around the mind numbing heavy riffery favoured by bands like Creed. Naturally, with a few growled primeval chants thrown in here and there (I'd hesitate to call them choruses) that sound like a renegade band of orcs baying for fresh hobbit bones.
And on that level, Tom Fay (guitars), Daren Townes (bass) and Stephen Riley (drums) can more than hold there own with the 'big boys' of the genre (although only Darren (aka Fat Daz) sports the requisite amount of sub chin growth.
But what separates Exoterik from the very many similar bands, is their ace in the pack - vocalist / keyboard player Anneka Latta.
And here again I wasn't quite prepared for such excellent vocals. Whether an influence or not, there's a real youthful Pat Benatar style to Anneka's vocals that quite apart from having a real 'edge', add a hugely melodic aspect to the band's delivery.
As a result, Butterfly In Your Hand is a remarkably mature crossover set that, with the right exposure on the other side of the pond, could see easily see Exoterik challenging for the Evanescence crown.
***½
Review by Pete Whalley
---
| | |
| --- | --- |
| | Print this page in printer-friendly format |
| | Tell a friend about this page |