ERIC GALES Relentless Provogue PRD 7318 2 (2010)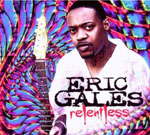 Guitar freaks already know about the post psychedelic, left-handed upside down guitar licks of Eric Gales. From his initial burst on to the scene as 'Best New Talent' in 1991 to the string of high profile admirers and the recent brace of excellent recent albums 'Crystal Vision' and the suitably titled 'The Psychedelic Underground'. And yes, given that he's black and a left handed, flamboyant player who teases out some outrageous notes and tears into shuddering solos there's the ghost of Hendrix lurking somewhere at the back.
Eric Giles's mission therefore, is to reinvent himself as a latter day, post Hendrix psychedelic messenger with enough of his own unique input to set himself aside from a generation of contenders. And after several enthralling moments and a few outright misses he achieves it on the majestic 'On The Wings of Rock & Roll'. This is a defining moment for Eric Gales because while his albums are always crammed full of virtuoso playing this is his first outright anthem and one that deserves radio play.
His last two CD's went some way to furthering his cause. And now comes 'Relentless', a CD with the same name as one of Walter Trout's best selling albums, but one on which Eric Gales explores his own intensive dimensions.
Perhaps the most significant thing about 'Relentless 'is that you always have to pay attention to the second solo. Just like a boxer who saves his knock out punch until the end, Eric pulsating solos come in waves and soften you up before the killer flurry of notes. And while Eric has a warm vocal style, it's his guitar that really does the talking on 13 tracks that range from the busy and fiery to the outright burning.
Listen for example, to the two completely different solos on the opening 'Bad Lawbreaker'. He shifts from the introductory Albert King style verse and guitar riposte to soloing with an altogether greater sense of urgency, with big toned layers pushed to their limit by the explosive Aaron Haggery on drums. A high register flurry offers the perfect finish to a song that poses both a question and just as quickly gives you an immediate answer; you want quality rock/blues? Here it is, come and get it.
'A Little More Time' is more straightforward but still has a busy production with lots going on in the mix before a bursting solo cuts through. There's a whiff of Hendrix and some mighty sustain on 'Block the Sun', which in truth is an unremarkable plodder that makes the most of a doubled tracked guitar and powerhouse drums.
Far better is the 'straight to the vein' boogie of 'Make It There', complete with processed voice and more explosive drumming. Enough said, except Eric momentarily stops and launches himself into space with some outlandish guitar work. He positively teeters on the brink and just about makes it back to the riff before cleverly doubling up the vocal and guitar parts before one more flourish.
His solos grow on you. His playing is intense, mesmerising and colourful just like the spontaneous wah-wah inflected outro. Hot stuff!
Aside from the incredible energy levels, the best thing about 'Relentless' is that Eric inches towards clearer arrangements without any diminution of his guitar work.
On the slow blues 'When You've Got No Place To Go', (as slow as you are going to get with Eric Gales), you get a real sense of his eloquence as he weaves in and out of the number, bringing it right down to the metronomic percussive track. You know exactly where the song is going and when he's going to explode but the fact he can still make it interesting is the mark of an imaginative player. Once again it's the second wah-wah inflected tone that takes the song up a notch as Eric solos imperiously. But there's still more and after an exclamatory 'check this out' he changes tone again and works his way towards the finish of another breath-taking outing.
Equally good is 'If You Knew The Truth' which skips along on a breeze and is a tightly wrapped band effort on which Eric sings and phrases well while the irrepressible rhythm section jumps out the tracks. And while the cluttered and heavy riffed 'The Spice' is frankly dull, it is a minor diversion before another Hendrixy flourish on' The Change In Me' and the aforementioned epic 'On the Wings of Rock & Roll'. EG finishes in style on a surprising melodic instrumental end-piece 'Universal Peacepipe'.
He may be 'Relentless' but Eric Gales's guitar playing is like a dam ready to burst and this album offers him some welcome channels in which to pour himself.
****
Review by Pete Feenstra
---
| | |
| --- | --- |
| | Print this page in printer-friendly format |
| | Tell a friend about this page |