Just witnessed your best live gig?.. send us a review!
ENFORCER/ Black Spiders
Purple Turtle, Camden 2 December 2010

It's freezing cold, snowing and Airbourne have just postponed their Brixton show due to illness. Bad times. But hold on, Sweden's mighty Enforcer, support on the Airbourne tour, aren't gonna let that stop them. A last minute show is announced at Camden's Purple Turtle, and the special guests are Black Spiders! Good times.
Tonight's opening act is Cavity Search, the band up until 2 days ago were due to be tonight's headline act. Graciously, they made way for tonight's two heavyweights, and so are rewarded with the opening slot.
They put in a good set, their hardcore punk/metal hybrid going down well with the early birds here tonight. They'd do well with a support slot for Enforcer's Earache label mates Municipal Waste, an obvious influence, with whom they'd be a bit more compatible.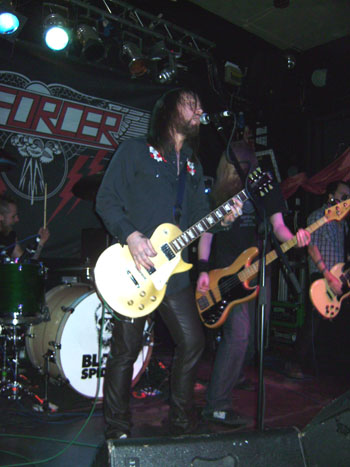 Black Spiders were due to be on tour with Volbeat in the UK at the moment, but coincidentally all dates of this tour have been cancelled, hence the unlikely but mouthwatering prospect of Black Spiders and Enforcer teaming up for this show has presented itself.
Black Spiders are a hard working band on the road, clocking up thousands of miles, and constantly crop up as tour support for various bigger rock acts. Having just completed some European dates with Airbourne, who they will now be joining in the UK, their set is well oiled and bursting with energy.
With the much anticipated debut album, 'Sons Of The North', about to get its official release early next year, this is a good opportunity to get a taster of some of the gems the album will contain.
Considering this gig was announced with less than two days notice, a pretty sizeable crowd has assembled to see the band kick off in explosive style with the thumping swagger of 'Si, El Diablo'. 'Stay Down' is an irresistible full on rocker, with a riff resembling AC/DC's 'Let There Be Rock', and 'Just Like a Woman' is another high voltage rocker. The brilliantly titled 'Kiss Tried To Kill Me' is perhaps the most commercial and catchy songs on offer tonight, with a killer chorus.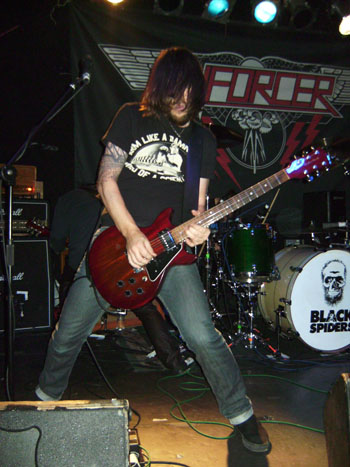 'What Good's a Rock Without a Roll' is another indicator that the album's gonna be a strong one, as this groovy rocker does exactly what it says on the tin. The set closes in fine style with the Sabbathy swaggering groove of 'Blood Of The Kings'.
Spiders frontman Pete Spiby, formerly of Groop Dogdrill, displays the confidence and professionalism to work a crowd even of this size, whilst the rest of the band give it 110% effort and energy, with drummer Si Atkinson, apart from playing some great drums, looking totally demented behind the kit.
Although displaying influences ranging from AC/DC and Kiss through to Clutch and Black Sabbath, this is a great live band with an identifiable sound of their own. Once the album, available in advance on this tour, hits the shops for real in February 2011, I would expect this band to make some giant strides.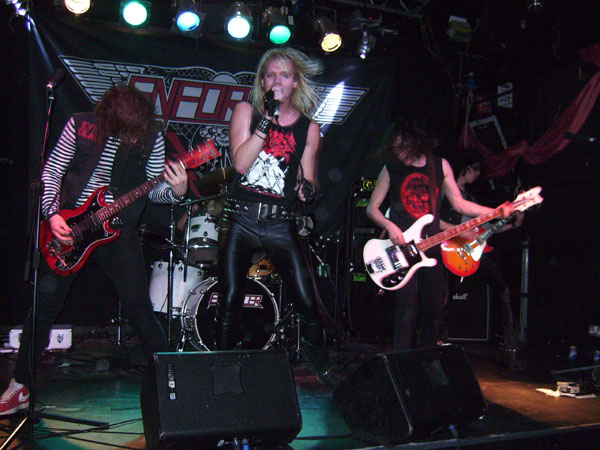 Zoom (Click large image to cancel)
As the strains of Judas Priest's 'Diamonds and Rust' blast out of the PA system, we know we're about to experience some full on, straight ahead Heavy Metal. Sweden's Enforcer are one of a whole bunch of new bands who favour the classic sound of some old school NWOBHM-era metal. And for me, they're the best of the bunch.
Having recently survived a near fatal coach crash on the road in Sweden, it says something for this band's dedication that they dusted themselves off and pretty much got straight back on the road.
The band hit the stage like an explosive ball of energy as they rip into the two opening cuts from this year's excellent 'Diamonds' album. 'Midnight Vice' and 'Roll The Dice' both have a strong flavour, musically at least, of the Paul Dianno era Iron Maiden and get the set off to a cracking start.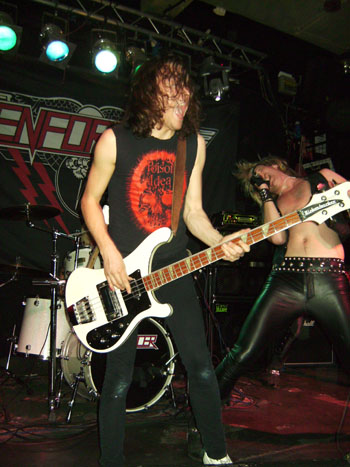 The set leans heaviest on the material from 'Diamonds', but a handful of tracks from 2008's slightly harder and faster first album 'Into The Night' also feature tonight, with 'On The Loose' , 'Mistress From Hell' and 'Into The Night' all hitting the heavy metal spot.
The tracks from 'Diamonds' show that the band have honed their sound and song craft since that first album, with 'Katana' and 'Walk With Me' sounding particularly strong, and the instrumental 'Diamonds' giving the band a chance to shine.
Whether you want to term the band 'old school' or 'traditional' metal is a matter of preference, but this is well crafted, high energy Heavy Metal regardless.
The influence of bands such as Maiden, Samson, Tygers, Saxon etc is blatant, and Enforcer seem to have captured the spirit of that early 80's classic metal sound perfectly.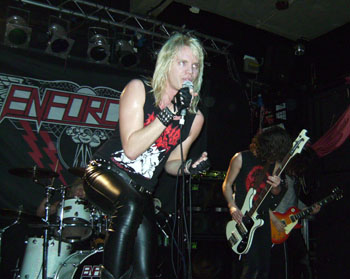 What gives them a slightly different twist, however, is singer Olof Wikstrand. With his blond bombshell pretty boy looks and leather and studs garb, he comes across like and youthful Vince Neil or even the great Brian Connelly.
His vocals give the band a slightly glammy edge in places, especially on the newer tracks, and this will broaden the band's appeal no end. From start to finish, the band dart around the stage full of energy and enthusiasm which can't fail to put a smile on your face, as a great rock'n'roll band should do.
The full on HM assault of 'Take Me To Hell' brings a great set to a close. Both Black Spiders and Enforcer shone tonight, and it was a privilege to be able to attend this most unexpected and welcome gig at very short notice. Expect to hear a lot more from both bands next year.

Review and photos by Jim Rowland
---