EDGE OF FOREVER Another Paradise 7Hard (2010)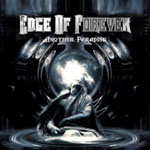 This is the band's third album and their previous two albums were okay but nothing really special. However, on this new album they have produced a corker! The band are led by Alessandro Del Vecchio on vocals and keyboards (who has recently joined Eden's Curse plus he's worked with Bruno Rock, Andre Matos and many others) who has a vocal style perfect for melodic hard rock.
The overall sound is one of good time melodic rock, nothing to taxing lyrically and with lots of hooks and memorable choruses. In fact only ballad 'What I've Never Seen', which features the band's former vocalist Bob Harris (no not that one!) fails to grab the listener. 'Lonely' harks back to 80's hard rock whilst 'Distant Voices' and 'Another Paradise' are good time rockers featuring plenty of guitar and keyboards interplay. Brother Firetribe watch out as Edge Of Forever do a pomptastic cover of 'What A Feeling' from the 80's movie 'Flashdance'. The choral vocals and massive wall of synths sound awesome. For some Hammond led rock album 'Eye Of The Storm' fits the bill nicely and it reminded me a lot of M.il.ion as well.
An album that provides the perfect pick me up as the musicians obviously had fun recording these songs as it comes through on the music. As you'd expect there are a lot of keyboards used throughout the album although guitarist Walter Caliaro gets plenty of opportunities to strut his stuff as well. More please!
****
Review by Jason Ritchie
---
| | |
| --- | --- |
| | Print this page in printer-friendly format |
| | Tell a friend about this page |
***** Out of this world | **** Pretty damn fine |
*** OK, approach with caution unless you are a fan |
** Instant bargain bin fodder | * Ugly. Just ugly
get ready to rock is a division of hotdigitsnewmedia group