THE DUKE & THE KING Long Live The Duke & The King (2010)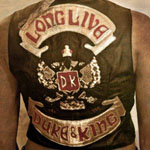 The Duke & The King are a rootsy folk / rock Americana act from New York whose unique selling point is to hone in on the late sixties west coast scene and add an element of classic soul to the mix.
Named after Mark Twain's Huckleberry Finn characters, the band's Nothing Gold Can Stay met with widespread critical acclaim being named as The Daily Telegraph's album of the year, and featuring in the Sunday Times Top 5 albums of 2009. It also earned them a spot on the Jools Holland Later show.
The follow-up, the self produced Long Live The Duke & The King sees the band continue to embrace all aspects of late sixties/early seventies rock, folk, soul and psychedelia. There's echoes of Dylan (Shine On You), James Taylor (Shaky), Donovan (Children Of The Sun) the classic soul of the likes of Sam Cooke and Otis Redding (Hudson River), and of course, Crosby, Stills, Nash &, in particular, Young (the excellent Have You Seen It).
And in that context Long Live - doesn't disappointment. Those who swooned over the Nothing Gold Can Stay will lap it up. But I don't get it. Yes, it's like taking a time travelling excursion to a ground breaking era – it even has that loose and unfettered 'feel' (Don't Take That Plane Tonight echoes as far as Zappa & The Mothers) but I really can't see why I would want to reach for a pastiche of the era in preference to the 'real thing'.
Undoubtedly well played, constructed and executed, Long Live The Duke & The King just didn't excite me. But then, maybe it's best enjoyed with a damn good spliff.
***½
Review by Pete Whalley
---
| | |
| --- | --- |
| | Print this page in printer-friendly format |
| | Tell a friend about this page |