THE DREAMING TREE Progress Has No Patience (2010)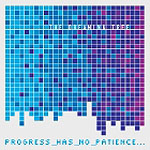 Wolverhampton based progressive pop/rock four piece (Dan Jones - guitars/vocals, Neil Ablard - drums, Chris Buckler - vocals, and Steve Barratt - keyboards). Originally formed in 2003/04.
The band must get an award for producing an album that starts with track 2! And also worthy of immediate note is the musicianship and crisp clean production.
But having listened to Progress Has No Patience a number of times, I was left puzzled about the overall direction. The album opens with a Silence Won't Steal and Arcadia, a pair of numbers that wouldn't be out of place on a nu-prog set list of a band like, say, The Reasoning. Silence Won't Steal certainly has the 'wow' factor - in particular, the excellent mid section keyboard and guitar interplay. .
But then the album shifts into (admittedly well played) light pop/easy on the ear numbers with the occasional jazz undertones - stuff that has more in common with, say Steely Dan or - in prog terms - Spock's Beard/The Tangent. The rock 'edge' is suddenly gone, although there's some beautifully fluid guitar work on Moult and The Only Song. And the album concludes with a lovely piano based ballad - The Only Truth.
The nearest comparator I could come up with was the solo work of Jakko Jaksyk (most recently with the 21st Century Schizoid Band) or Sad Café - a real quality band who never really found full favour with either pop or rock fans. Much underrated and much missed.
Too often, I was left wondering whether I was listening to a band aspiring to American FM radio, or a bunch of prog rockers just itching to let rip. Whatever, The Dreaming Tree have all the weapons they need in their armoury. But then, so did Sad Café.
***½
Review by Pete Whalley
---
| | |
| --- | --- |
| | Print this page in printer-friendly format |
| | Tell a friend about this page |