DR JOHN Tribal Proper FTN17803 (2010)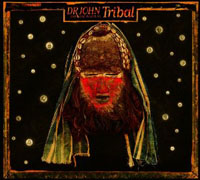 Mac Rebennack, aka Dr. John, The Night Tripper," is back with another pot of musical gumbo that draws on the usual wide ranging mix of rich and eclectic musical sources to create his own unique dish.
Of course he's never really been away, but despite pushing 70 he's back in a creative splurge. Its 42 year since his ground breaking 'Gris Gris' album and apart from a weathered voice, he's still got a sparkling way with words and some idiosyncratic phrasing with oft used phonetic enunciation. His voice may be a little scratchy these days - he sounds like a latter day Johnny Winter on 'Feel Good Music' and he visibly wobbles on 'When I'm Right (I'm Wrong)' - but his sense of a great groove and an intuitive exploration of soulful swamp music has never left him.
The muscular rhythm section of drummer Herman "Roscoe" Ernest, bassist David Barard and percussionist Kenneth 'Afro' Williams give Mac so many options, or as he says himself, 'You could tell a New Orleans guy by not so much what he did but what he left out, the space he left in the music and where he left it to let the music breathe and to get a little more funky'. And in that respect his band serve him well, with guitarist John Fohl switching tone according to the feel of the song. On 'Big Gaps' the uplifting horn arrangement tucks in behind Mac's sparkling piano and rhythmic bv's to give the songs its vitality
The band also leans into some deep grooves on the low down dirty funk of 'Jinky Jinx', and 'Sleepin' in My Bed', while Mac growls like a troubled Captain Beefheart on 'Manovas' over some dirt sounding slide guitar.
Dr John's career appears to roll along like an undulating wave on a pre BP scarred Louisiana shore line. His five Grammy's have included the 1992's Best Traditional Blues Album for 'Goin' Back To New Orleans' and the 2008 Best Contemporary Blues Album for the heartfelt and very poignant 'City that Care Forgot' and you suspect 'Tribal' is another success in the making.
The opening 'Feel Good Music' appears to be a an eloquent statement of his enduring musical sprit and artistic independence; 'Im a feelgood doctor and I can't lose, make you feelgood and you wont refuse, I know where to go to change your views, regroup your soul with the muse I use', with just a touch of echo on the voice for emphasis. And he sharpens his political focus on the phonetically titled 'Lissen At Our Prayers'. He makes good use of a 70's sounding string section and retro sounding girly bv's to ask the post 9/11 question; 'Who will benefit from a state of panic, the same negative energy that currently rules the planet'
Not everything works though as the title track 'Tribal' for example, is an ambitious attempt to fuse a hypnotic Mardi Gras style chant with a mellifuous bluesy groove. The angular chord changes, croaky vocal and potent piano lines are in stark contrast to the revisted Afro chant. But while the song may be structually weak the voodoo eventually works its magic.
The following phonetically tilted 'Lissen At Our Prayer' could easily have come from the late 70's CTI label with its funky undertow, dramatic strings and girlie bv's, but it all works gloriously. The eloquently phrased lampooning of dietary concerns on Whut's Wit Dat' is another highlight;
'You been eating white bread, your walking with the dead
Greasy fries and sky hi pies, you think your scales is telling lies?
But his words take on a more serious perspective on the searching political observations of 'Only In America' over a nuanced Bossa groove and cool horn arrangement,
The album finishes with the aptly titled A Place in the Sun'. The piano/sax led slice of languid funk is the perfect finish for an artist who has indeed earned his place in the vanguard of contemporary New Orleans musical history.
****
Review by Pete Feenstra
---
| | |
| --- | --- |
| | Print this page in printer-friendly format |
| | Tell a friend about this page |