DOWNCHILD I Need A Hat Linus 2 70112 (2010)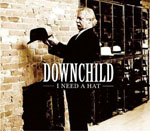 When you think of big band blues the names Roomful of Blues and Otis Grand's Big Blues Band might come to mind, but the chances are that you may have overlooked the award winning Toronto band Downchild. And for a band of some 40 years standing it's a glaring omission that has probably more to do with the lack of a major record deal than listener's apathy.
Put simply 'I Need A Hat' is that rare thing, a well produced blues album that captures the essence of a stonking band doing their thing in the studio. Perhaps it's also the geographic question that explains why this Donnie Walsh led outfit have never broken big out of their native Canada. They've picked up a Juno (a Canadian Grammy) for 'Best Roots and Traditional album' and have been nominated for 'Blues Album of the Year' etc and were apparently the inspiration for Ackroyd and Belushi's 'Blues Brothers' - the latter recorded a brace of the Downchild's songs - but as this 11 track album suggests this is no mere revival blues band.
Indeed not only are Don Walsh's songs strong enough (Chuck Jackson also chips in with two great efforts) to showcase such formidable guests as guitarists Colin James and Colin Linden, Dan Ackroyd on harp and a brace of solos from The Memphis Horns trumpet player Wayne Jackson, but he further extends his stewardship of the band with some excellent production work.
It's one thing for a band to stick together for years as a formidable live act and create their own signature sound , but its quite another for a producer and in this case the band's founder member to be able to capture that essential spark. And the most impressive thing about the humorously tiled 'I Need A Hat' - 'if you want to be a famous bluesman, you really need a hat' - is that the album captures a band at its very best.
Downchild is built around a rock solid rhythm section who effortlessly jump, swing, rumba and smoke while underpinning the snappy horns of Pat Carey on tenor and baritone and great frontline playing from Don on guitar and keyboard player Michael Fonfara, who switches from piano to organ.
But as ever the real acid test for a blues band is a slow blues and it's here that Downchild really sparkle.
Vocalist Chuck Jackson somehow manages to shift the emphasis of his baritone vocals to a warmer, earthier attack on 'Somebody Lied To Me' which also features a trumpet solo and beefy toned guitar from guests Wayne Jackson and Colin James. Similarly, 'Time To Say Good-bye' finds the band leaning effortlessly into another slow blues on which vocalist Jackson's baritone comes in to its own over some neat Fonfara organ work, while the horns build up the tension.
And while it is obviously the case that the Downchild is the glorious sum of its talented parts, Don's production pays due attention to the bigger picture ensuring that 'I Need A Hat' showcases every inflection of their blues oeuvre. Downchild glide through their set up, down and sideways as Ackroyd bel ts out a harp led shuffle 'You Don't Love Me' - which includes Colin Linden on slide, while Walsh adds some delicate picking on the excellent 'Down in the Delta'.
The band really hit their stride on the jump inflected, pumping horns and pithy harp of the wonderfully titled 'Some More of That'.
'I Need A Hat' almost nonchalantly finishes on the cool instrumental 'El Stew' rounding off a hugely impressive album with a gentle blow. The bottom line is there are any number of American bands with much bigger reputations who haven't come close to the mix of musical quality and sheer exuberance that makes 'I Need A Hat' such a pleasant if not belated introduction to a great big band blues outfit.
****
Review by Pete Feenstra
---
| | |
| --- | --- |
| | Print this page in printer-friendly format |
| | Tell a friend about this page |