Just witnessed your best live gig?.. send us a review!
JOE ELLIOTT's DOWN 'N' OUTZ
London Borderline, 22 July 2010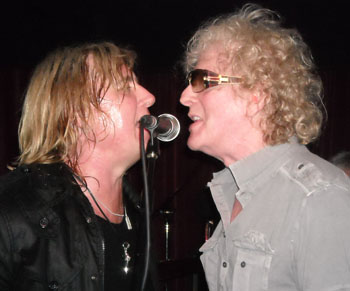 Vanity project or earnest tribute, Joe Elliott's motley crew of quiremen have divided opinion, ever since their support slot at the last of Mott the Hoople reunion shows at Hammersmith last October.

With the intention of resurrecting oldies but goldies from the Mott friends-and-family songbook, Joe has stuck to his not-so-young guns for over a year to deliver not only a CD's worth of lovingly recreated cover versions, but also snagged himself a prime spot at the High Voltage festival. Whatever his motivation, you have to admire his persistence. This is clearly more than the product of an informal Def jam session for Joe to get his rocks off.

With almost 10 months having elapsed since the Hammersmith gig, Joe organised a small club gig to roll away the cobwebs a few days before the High Voltage weekend. Conveniently located next-door to infamous juice emporium, the Crobar, the Borderline is filled to the brim with a mix of rockers of a certain age, journos and fanboys; although no leotards or other daft attire were spotted.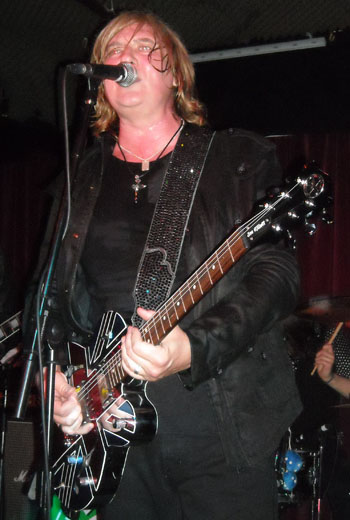 Inspite of the Down 'n' Outz mission statement of "Mott music and more", the gig kicked off in unexpected style with a trip down the yellow brick road.
Rather than starting in true 70s glam style with crashing guitars, blazing lights and pounding drums, we were treated to the gorgeous slow-burn instrumental that announced Elton's finest hour.
Although 'Funeral for a Friend' is nowadays known as the acceptable face of emo, for classic rock fans it harks back to the album that transformed the Rocket Man into Benny the Jet.

Better still, Joe's is no garage band, so their rendition is highly respectful to the original complete with anthemic lead guitar from the boys from the Quire, and no less moving, particularly in the way they segue seamlessly from the baroque instrumental to the pure rock of 'Love Lies Bleeding'.

Evidence that, once Joe has sated his Mott fetish, perhaps the forgotten classics of early 70s Elton could constitute his next project ? 'Take me to the Pilot', 'Burn down the mission', 'Where to now St Peter', 'Indian Sunset' ... Come on come on Joe, that would get me rocked.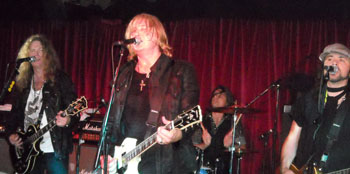 With the band and audience now invigorated by that expertly delivered 10 minute epic, it was time to get Motted. Well actually Lionised. What might not be appreciated by the casual observer is almost half of songs covered by the Down 'n' Outz derive from Mott sans Hoople.
British Lions' 'One Chance to Run' is an excellent entree to the meat and veg of the set-list. Certainly reminiscent of a less hysterical Leppard, complete with tribal drum intro, chiming lead guitar hook and assured vocal, the song fits the band like a glove and had a similar warming effect on the crowd.

With one exception, the set-list covers all the tracks handpicked for the clumsily-titled but superbly-executed "My Regeneration" collection that was included as freebie CD with Classic Rock magazine. Some might call it a giveaway, inspite of its necessarily cheap packaging, there's no risk of me giving away my copy, particularly as it includes 4 tracks from the mighty 'Shouting and Pointing'.
From which platter, 'Storm' goes down a... you get the picture. There's a bitter sweet moment when Joe name-checks that track's co-writer Ray Majors, who is apparently not in the best health. Great guitarist and good bloke too. Had a fantastic chat to him at a gig at Kings Cross Water Rats last year. Get well soon mate.

For a club gig the sound was pretty good, but the vocals were a little murky. For some reason, Joe's voice is always scrutinised and often criticised, whenever he plays live. Sure, he may not have the same range as 20 years ago, but he always delivers with passion and conviction and he did just fine by tonight, for what was after all a warm-up gig.

Unfortunately, this meant we didn't get 'Career' the cynical power ballad par excellence, which they did include in the set at High Voltage. Shame, as I think the subtlety of that song was lost on the festival crowd and killed the set's momentum; particularly given the imminent time-squeeze on Ian Hunter's highly anticipated guest appearance.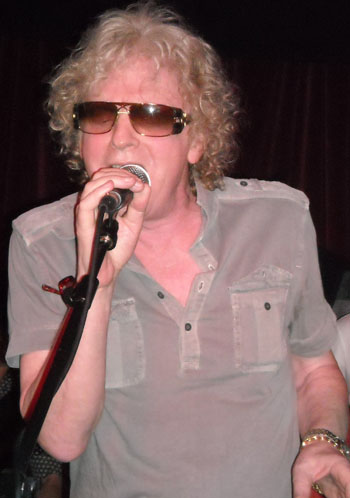 As has been already well-documented, at High Voltage there was only time for Hunter to perform 2 songs ('Once bitten twice shy' and 'Who do you love ?'), rather than the six that had been planned. At the Borderline, it's fair to say that things went more according to plan.

First there was the surprise mid-set addition of early Hoople track 'Whizz Kid', which does not feature on the current CD. Joe prefaced the song with a comment that he was already looking to put together another CD as a companion to My Regeneration (Vol 1)".
Secondly, we got two Mick Ralphs' era songs 'One of the boys' and 'Rock n Roll Queen' during the main set. Next, we had a romping version of the Vanda-Young classic 'Good Times' as a perfect set-closer.
Finally, a perfectly judged triple-shot encore. Returning to the cramped stage, the insistent and instantly recognisable piano riff of 'All the Way to Memphis', ignited the now well-lubricated six-piece firing straight into the 'Shalalalala Push Push' song before the inevitable set-closer.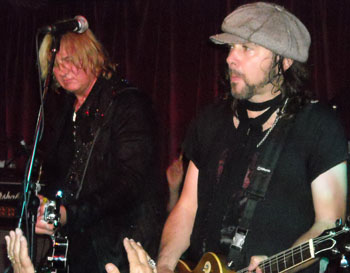 Having had the good fortune to see Ian Hunter many times over the years, one recurring constant is the not-so-surprise guest appearances of a certain Mr Elliott, whenever and wherever he performs 'Dudes'; Freddie Mercury Tribute, Mick Ronson Memorial, Mott the Hoople Reunion, the list goes on; it's strange after all these years to finally see the roles reversed with Joe beckoning Ian to join him on stage for Bowie's best song.
Fair play to Joe, he immediately moves out of the spotlight leaving no doubt about who's the Guvnor, showing the real respect he has for the Legend from Oswestry.

As for the audience ? Did we get off on that Thursday gig ? We did, we did...

SET LIST:
Funeral For A Friend/Love Lies Bleeding / One More Chance to Run / Golden Opportunity / Storm / Overnight Angels / Whizz Kid / Shouting And Pointing / Who Do You Love / One of the Boys / England Rocks / By Tonight / Rock And Roll Queen / Good Times / All the Way From Memphis / Roll Away the Stone / All The Young Dudes

Review by Andy Rawll
Photos by Mark Taylor
---