DOGHOUSE ROSES This Broken Key Yellowroom Music (2010)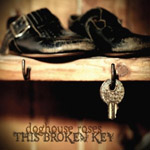 'This Broken Key' by Scotland's Doghouse Roses is a perfect example of the ever closer convergence of British Folk Music with Americana. And while the two genre's will always offer two sharply distinguishable strands, Doghouse Roses (in spite of their use of a Steve Earl title for their name) bring a bristling self confidence to bear on impressive narratives, beautiful singing and some fine band interplay. Above all there's core balance between the voice of Iona MacDonald, guitarist Paul Tasker and an array of impressive original material that will give any self respecting Americana artist a run for their money.
What's missing of course is the huge geographical vistas and cultural history of the American continent. But in Iona McDonald, Doghouse Roses have a singer with a rare ability to twist, turn and phrase any lyric to her own ends. She has a rich tone and versatile timbre that comes allied with a focussed purpose to give her real presence. Her musical partner, guitarist Paul Tasker is an equally integral part of a whole that is periodically fleshed out by the keyboard playing producer Alan Scobie and a rhythm section of Craig Strain on bass and drummer Fraser West, for whom dynamics are everything.
Ian Strain's banjo also adds to the carefully woven musical palette. But it is Tasker who pushes the song on, effortlessly switching his attack from rhythmic accompaniment to purposeful solos with a locker full of acoustic tones that brings colour and variety to a dozen songs. The overall feel is that of a folk rock outfit in search of something more. And for the most part 'This Broken Key' fulfils its potential by successfully reaching for something beyond the genres that too readily define their more immediate musical contours.
The duo weave their way through the train-time rhythm of the opening 'Atonement', and combine Iona's crystal clear voice with glistening harmonies and infectious rhythms on 'Woodstock'. It's the perfect example of what the band is capable of, being a lovely combination of a sprightly musical accompaniment and wistful poetic lyrics; 'Watching the waves where the sea meets the shore and the river roll and tumbles. Tomorrow comes we'll just get out, 11 days and just 10 nights, Never once thought I'd back down, we're a long way from Woodstock now'
And while it is Iona who holds centre stage on the haunting 'Trouble Gathering', - 'nothing moves here but the air and trouble gathering' - and also on both the stripped down 'Twisted Wheel' and the impressive cool of 'The Rain', the band also stretch their style towards some understated, but potent folk rock on 'Thunder of the Dawn'
Iona is steeped in Scottish folk music and has found the perfect musical foil in Paul Tasker who proves to be an intuitive guitar player. On 'The Rain' he shifts imperceptibly from rhythm to lead over a perfectly nuanced brushed shuffle beat.
In fact what makes 'This Broken Key' so interesting is that it breaks new ground on its own terms. Much like Donavan back in the 60's who took his style from Scottish Folk music before finding his own voice, Doghouse Roses establish a bridge between folk and alt.country to discover their own niche and equilibrium. This is particularly so on the magnificent 'Blue Moon on the Mountain' on which Iona remains true to her self, but adds some rich harmony lines to suggest other influences. Tasker meanwhile provides the mesmerising rhythm guitar and an acute sense of dynamics. that perfectly mirrors the vocals.
In contrast 'Any Kind of Love' is a band MOR effort that doesn't quite emulate the same intensity of what has gone before. But its back to a vocal led Folk feel on 'Survival' which is slightly reminiscent of Sandy Denny, but perhaps without the rough hewn sensuality.
Better still is 'Evermore', the perfect meeting of voice, lyrics and guitar, and the band groove 'Devil In Me' on which the double tracked vocals, crisp percussive track and Iona's voice conjure up some more magic.
'This Broken Key' is by no means a perfect album. But it's a work imbued with real vitality, musical excellence, plenty of originality and real feel and warmth. And as such it deserves 5 stars, if only to encourage rock fans to open their ears beyond their normal parameters. This key may be broken, but pick the lock and you won't be disappointed.
*****
Review by Pete Feenstra
---
| | |
| --- | --- |
| | Print this page in printer-friendly format |
| | Tell a friend about this page |