DICK WAGNER Full Meltdown (2010)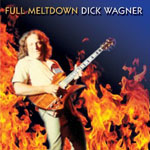 Probably best known for his collaboration/work with Alice Cooper, Dick Wagner's full list of talents run to guitarist, songwriter, producer and musical director (whatever that is). And the list of who he's worked with reads like an A-Z of rock royalty - Aerosmith, Kiss, Peter Gabriel, Meatloaf, Steve Perry, Rod Stewart , Tina Turner, Roy Orbison, Guns 'n' Roses and Tori Amos to name but a few. It would probably be easier to list who he hasn't played with.
Alice Cooper's supporting cast has, of course, been a never ending procession of supporting players since he dispensed with the original Alice Cooper band. But Wagner stayed on the bus longer than most - first appearing on the School's Out album, and taking a major role in all Alice's solo albums from Welcome To My Nightmare through to From The Inside in 1978, returning briefly to the fold for Zipper Catches Skin and DaDa in 1982 and 1983 respectively.
Of course it's always difficult to know what contributors have brought to the Alice Cooper party, because no matter who comes and goes, it always sounds like Alice.
Which in a roundabout way neatly sums up Full Meltdown. Recorded between 1979 and 1995 it's a collection of self penned or co-written numbers recorded by Wagner and friends with the main man taking vocal and guitar duties.
And therein lies the rub. Wagner is a good, even great, guitarist, but he ain't a great vocalist. Passable, but not great. As a consequence these songs would be considerably enhanced in the hands of others - Still Hungry is crying out for Steve Perry to sing it, Blue Collar Babies is a potential vehicle for Meatloaf, and Insatiable Girl classic Alice Cooper fodder.
So the album is very much a reflection of the American AOR scene of the period. Alice even dipped back in to plunder I Might As Well Be On Mars for his 1991 Hey Stoopid album.
So as a sales pitch of what he can offer to others, Full Meltdown is damn impressive, it just needs someone to take the songs to the next level. But it's nevertheless an interesting insight into a major contributor to the sounds of a generation.
***
Review by Pete Whalley
---
| | |
| --- | --- |
| | Print this page in printer-friendly format |
| | Tell a friend about this page |