DEVON ALLMAN'S HONEYTRIBE Space Age Blues Provogue PRD 7315 2(2010)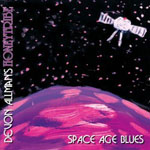 It's 40 years since the dawn of the New Realist art movement in which members of the Nouveaux Réalistes group viewed the world as an image from which they could take parts and incorporate them into their works.
And while Devon Allman doesn't neccessarily buy into the end result of what became Pop Art in the States, 'Space Age Blues' is imbued with the same experimental and creative desire. He even references Yves Klein on the brief acoustic instrumental 'Blue Est Le Vide', and adorns his CD with the paintings of the contemporary artist Lamar Sorrento - famous for his portayal of musicians - and gives the album a thinly veiled psycheldic wash with a subtle production.
'Space Age Blues' is the work of a soulful singer and magisterial guitar player who won't settle for the mundanities of life. And if he's going to explore the blues, he's doing it in his own way combining a traditional musical form with futuristic imagery and an equiring mind.
In fact Devon describes the conceptual approach of 'Space Age Blues'as, 'Darth Vader meets BB King', to reflect his twin interests of Blues and Sci Fi. And musch like the school of French artists he's not given to abstraction but prefers to deal with reality and the present through his own searching dialectic that musically fuses the past, present and future.
Taken as a whole the album digs deep with some soulful grooves, consitent baritone singing and imaginative guitar work.
'Space Age Blues' feels like a soulful, personal journey with plenty of sonic exploration and musical flourishes that evoke his lyrical meaning. And the album opens with a cracker, as Huey Lewis adds some imperious harp on the radio friendly 'Could Get Dangerous' and Devon stretches his vocal range to the maximum.
'Space Age Blues' is an outer worldly concept album grounded in reality with solid enough grooves and a soulful intent brought to life by Devon's impassioned singing and his spacey guitar work. It all comes together perfectly on the title track with portentous lyrics, a spacey vibe and a searing blues workout that sends a shiver down your spine. The band cooks as only a tour band can, and guest Ron Holloway fills in the spaces with his earthy toned sax.
Devon lays his feelings bare on the heartfelt blues 'Salvation', a song that is the antithesis of so much that passes for contemporary blues. And the one cover on the album is an interesting choice as Devon makes the most of Stevie Wonders' funky 'Sir Duke', working through his own laid back arrangement that features a crisp rhythm section and lashings of wah wah.
There's a muscular groove underpinning 'Endless Diamond', a song on which Devon searches for meaning; 'Something more deep inside, you are not just your mind, we're really all souls burnin with a feelin and were sanctified' , while 'New Pet Monkey' is possibly the most beautiful track on the album. It floats along on the back of a sparkling piano line, a repeated buzz guitar motif and a fine vocal from Devon that is punctuated by an earthy horn riff. It flows and meanders like a mountain stream and finds its resolution in a descending jazzy break with a seamless meeting of sax and guitar solo.
'I'm Ready' is a funky, riff heavy piece that benefits from an eloquent chorus and one of the few big guitar breaks on the album as Devon and his pounding rhythm section step up to the plate.
Impressively self produced and intuitively engineered by Ardent studio guru Pete Matthews, 'Space Age Blues' is a slow burner with lots of secrets to reveal. The brief psychedelic storm and belated guitar bluster on 'Take Me To The Bridge' and the eastern sounding buzz guitar on the closing instrumental of 'Insh Allah' signs off the album with more exotic guitar explorations and a message of hope.
Devon Allman writes and sings from the heart and his guitar playing reaches for the stars, it's a suitably lofty ambition for an album of 'Space Age Blues'.
****
Review by Pete Feenstra
---
| | |
| --- | --- |
| | Print this page in printer-friendly format |
| | Tell a friend about this page |