DEVO Something For Everybody WB 62641-43 (2010)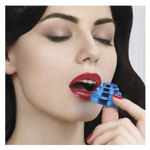 Devo bring a new meaning to the old PR chestnut 'the much anticipated new album'. For after a twenty year wait, committed Devo fans and music fans alike must have wondered what to expect from the idiosyncratic video pioneers.
Happily, 'Something For Everybody' suggests the band has just about achieved its mission statement of 'being the best Devo possible'. And that is no mean achievement given their place in rock and video history. Their characteristic robotic dance routines and zany time signatures might well have been consigned to the file marked 'post Zappa', had it not been for their subversive political concept of De-Evolution; i.e. the world is regressing and as a result it is dysfunctional and led by the herd instinct of American Society.
The irony is of course is that Devo use the very same component parts of modern popular culture - especially dumbed down disco - to hammer home their message. At times the results are brilliant, while on other occasions they blur the lines between the message and the relentless disco beats.
Devo is a band with sense of time and place and with an enduring De-Evoluton message that caries real weight via irony, humour and dance music. Indeed it's their weapons of satire, parody and a sense of the ridiculous that pulls them through. You also have to consider their understanding of T.S.Eliot's description of pragmatism as, 'A series of metamorphoses and adaptations to issues as they arise'. To that end 'Something For Everybody' is a perfect title for an album that offers many riches, albeit in a synth driven 80's landscape.
Lest we forget, this is a band comprisng creative individuals who have been responsible for some of the most astute advertising campaigns in modern society. Accordingly they adopt a fallback position in their relentless bludgeoning of an absurd society, by seeing 'subversion as the most successful form of change'. Though you have to buy into the bigger picture to understand the subversion of songs like 'Watch us Work', which was used by the Dell Corporation.
But ignore them at your peril, for Devo are sleepers who have ingratiated themselves into the system and on the evidence of this album have incorporated marketing techniques and focus groups etc, to their own ends. 38 years on from their inception, their resolve remains firm and their music is as potent as ever. 'Something For Everybody' continues their quest as they unerringly deconstruct modern civilisation armed with a sense of the ridiculous, but also with some great hooks and relentless mechanical synth driven dance beats.
And on the evidence of the excellent opening single 'Fresh', they still plough the same furrow, bringing some clever world plays to bear on a synth driven disco stomp.
So fresh it's givin' me a second life
I see a fork in the road
Where it goes I don't know
I won't even think twice
I really don't have a choice'.
It's a song about making your own choices, shaping your own destiny and is essentially the message that runs through the heart of the band's politics.
At its best 'Something For Everybody' is catchy, immediate and just about contemporary in equal parts and certainly still recognisable as Devo! At its worst there's occasional commercial overkill, with tracks like the lushly produced and abrasive lyrics of 'Later Is Now' sounding like updated Duran Duran with a message.
On the mechanical and corporeal dichotomy of 'What We Do' the synth driven robotic beat and the swiftly delivered chorus is reminiscent of Quantum Jump's 'Lone Ranger'. But the latter would surely never have delivered such 'big' lyrics veering from double entendres to the philosophical.
'It's like we've died and gone to heaven,
You make me lose my body,
When we do it,
(The universal it)
I Know It's We and Not Just Me
When We Do It'.
The band tries a little too hard on 'Please Baby Please' which includes a curious scratchy guitar break over a thudding dance floor groove. The vocals come very close to 80's synth popsters Blancmange and if there's a down side to the album it is simply that musically the band's creative force is intrinsically tied up with the synth driven 80's sound. You either dig it or you don't. That said, after repeated plays 'Please Baby Please' does grow on you. It is after all distilled Devo, partly annoying but ultimately essential.
There's also a clever restless musical bent to 'Don't Shoot, I'm A Man' that amplifies the rat race paranoia of the lyrics. But the supposed lampooning of contemporary slang is somewhat devalued by the later phonetically titled 'Sumthin'. (Love is) 'Mind Games' is much better being a straight to the jugular, quirky dance floor outing. And by the time of the vocoder driven 'Human Rocket' the band rock out and cleverly evoke the lyrics through some up tempo big beats and a great hook. The 'Human Rocket' literally takes off.
And yet Devo still retain their power to surprise, as they come up with a portentous piano led ballad on the magnificent 'No Place Like Home' which is as unlikely as it is impressive. It finishes with as sense of the dramatic and is an unexpected album highlight.
On 'March On' the band carry an anti war message on the back of banks of percolating synths and further use Kraftwerk style vocoded vocals to deliver their message over dance floor grooves. But it's the pro-active 'Let's Get To It' which provides the perfect kind of sing-along, pro De-evolution anthem that you can imagine they might finishing a live set with.
'Something For Everybody' is a reaffirmation of Devo's creative source. They remain musically vibrant as they enter their next phase of corporate subversion by shining a light on the absurdity of life, language and even love. Devo employ their dialectical scalpel judiciously and 'Something for Everybody' humorously lives up to its name for those prepared to think as well as dance.
****
Review by Pete Feenstra
---