DEEP PURPLE Singles & EP Anthology 68-80 EMI (2010)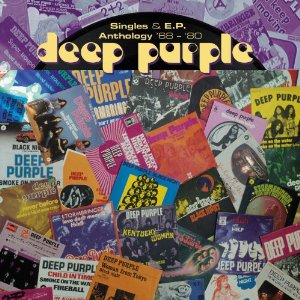 This 35 track double album collects together the band's single output from around the world, so we have U.S., French and Dutch B-sides amongst others. In addition there are several non-album tracks, such as 'Strange Kind Of Woman' (although included on the original US album release) and 'Black Night'. It is really an expanded version of the 1993 compilation 'Singles As and Bs'.
Whilst fans will no doubt own endless permutations of 'Smoke On the Water' - included here in studio and live version from a US single - it is always a pleasure to hear the history of a band reflected in its singles (surely a rare thing for a rock band now) and in Purple's case until 1980 when arguably they went a bit skew-whiff.
Unfortunately most of the single B-sides were never particularly rare, either in the form of unreleased outtakes or live tracks, with the exception of the "piano" version of 'Speed King', 'I'm Alone' from the Fireball sessions (1971), 'When A Blind Man Cries' from 1972 and the instrumental 'Coronarias Redig' (1974). Moreover, the singles were often cut-down versions of longer album tracks. Hence the two and a half minute edit of 'Lazy' and the four minute edit of 'April' - a twelve minute monster on 'Deep Purple' (1969).
On this anthology we also get the single-specific 'Hallelujah' from 1969, which was Ian Gillan and Roger Glover's first recording session with the band and so historically important.
Perhaps the most useful addition are those EP tracks (under the title, New Live & Rare) released in the late seventies and reissues/retrospectives rather than "proper" singles. In 1977 there is the 'Who Do We Think We Are' outtake 'Painted Horse' whilst Volume 3 released in 1980 offers two rarities: a 1969 BBC session ('The Bird Has Flown') and 'Grabsplatter' (from the 'In Rock' sessions). Both are studio jams and not available elsewhere on CD.
If we wanted to be completist, Volumes 1 and III of those EPs included unreleased live versions of 'Black Night' and 'Smoke On The Water' respectively but the compilers have chosen to include alternate edits here. In any event, the latter track surfaced on 'Deep Purple In Concert' (1980).
And this isn't all the singles Purple ever released although it covers all those in the UK during this period. For example, 'Lady Double Dealer' was released as an A-side in Japan in 1974, and 'Highway Star' in 1976, but both are omitted. Similarly there is no 'River Deep Mountain High', a US single in 1968.
As with all compilations of this type, buyers should be a little cautious. Some of the B-sides were included on the various album reissues over the years including the "25th Anniversary" editions.
Whilst prospective punters might be better directed to those anniversary reissues (and savour Purple in full album glory), this compilation - with Simon Robinson's extensive liner notes – is a worthwhile investment and goes well with the recent DVD archive release reviewed elsewhere.
***½
Review by David Randall
DVD review
---
| | |
| --- | --- |
| | Print this page in printer-friendly format |
| | Tell a friend about this page |