DAVID ROTHERAY - The Life Of Birds (2010)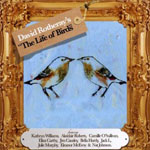 While not a name that may immediately strike a chord, David Rotheray's work will be well known to you - principally as guitarist and one half of the mega successful Beautiful South song writing team (with Paul Heaton).
When The Beautiful South hit a musical hiatus Rotheray decided to pursue a less commercial avenue forming Homespun - a folk venture of like minded individuals, featuring Sam Brown on vocals, a band that proved to be another excellent vehicle for his song writing skills. All three of the band's albums (Homespun, Effortless Cool and Short Stories From East Yorkshire) are well worth searching out.
But Sam Brown's ill health put an unfortunate and untimely end to Homespun and The Life Of Birds sees Rotheray collaborating with a range of highly respected singers (and song writers), in particular Eleanor McEvoy with whom four of the songs are co-written, although she only sings on one – Almost Beautiful – a poignant look at Alzheimer's from the perspective of the person who sees their loved one still there - in body, if not in mind.
It signals Life Of Birds as an altogether more sombre affair than previous Rotheray output. Gone is the joie de vivre and in it's place he takes a long hard look in the mirror of life and concludes it ain't always all it's cracked up to be.
With a cast of 'guest' vocalists including Jim Causley, Bella Hardy, Eliza Carthy, Kathryn Williams, Alasdair Roberts, Camille O'Sullivan, Julie Murphy Nat Johnson and Jack L he tackles some fairly bleak and uncomfortable subjects ranging from leaving Hull in search of fame and fortune (The Road To The South with vocals by Eliza McCarthy) concluding the grass really isn't always greener, how commercial success can be prey for the vultures of greed and self importance (The Sparrow, The Thrush & The Nightingale with vocals by Jim Crowley), the conclusion that riches don't bring happiness (Draughty Old Fortress with vocals by Alasdair Roberts) and worse still, visions of Alzheimer's (Almost Beautiful, and Sweet Forgetfulness with vocals by Camille O'Sullivan) and death (Taller Than Me with vocals by Julie Murphy).
Whether it's autobiographical or observational we don't know, but the good news is that it's not all doom and gloom. The album does have its lighter moments (at least musically, if not always lyrically) with the opening pairing of The Sparrow, The Thrush and The Nightingale, Living Before The War and The Digital Cookoo (with vocals by Bella Hardy) being particularly accessible. Almost Beautiful is another highlight taking Eleanor McEvoy beyond her normal subject matter comfort zone and bringing out one of the best vocal performances on the album. Flying Lessons (with vocals by Nat Johnson) also merits singling out.
It almost goes without saying that The Life Of Birds is im-peck-ably played, recorded and produced, and despite the wide range of contributors hangs together well as a cohesive piece. Just don't expect it to necessarily brighten up your day. ***1/2
****
Review by Pete Whalley
---
| | |
| --- | --- |
| | Print this page in printer-friendly format |
| | Tell a friend about this page |