DAVID MINASIAN Random Acts Of Beauty
Prog Rock Records (2010)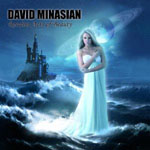 David Minasian has made his name as a composer and video director. His music has been featured in over sixty films and DVD's and this marks his debut release.
As you'd expect the music is grand in size and scope plus the added bonus is it features the first new recorded work since 2002 to feature Camel's Andy Latimer (Minasian directed the Camel DVD 'Coming Of Age').
Andy Latimer adds his vocals and wonderful guitar passages to the opening song 'Masquerade', which will come as no surprise to hear it sounds like Camel. The guitar and keyboards on this one really do bring to mind Gilmour-led Pink Floyd and Camel, wonderful stuff.
'Blue Rain' features vocals and more delightful keyboards along with some drawn out guitar solos from David's son Justin. He really has a touch of the Dave Gilmour's about his playing but still manages to add his own style in, particularly when the tempo increases on 'Storming The Castle' - very Yes in feel on the keyboards. 'Blue Rain', along with 'Masquerade' are the album's stand out moments.
There is a big emphasis on the keyboards and guitar throughout the album with vocals used sparingly. Not that the listener misses them much as you are drawn into the music and it stands up to repeated plays. Camel fans this is one to get simply for the Andy Latimer guest spot and those who enjoy cinematic soundscapes.
****
Review by Jason Ritchie
---
| | |
| --- | --- |
| | Print this page in printer-friendly format |
| | Tell a friend about this page |