Just witnessed your best live gig?.. send us a review!
DAVE EVANS, The Gaff, London 26 May 2010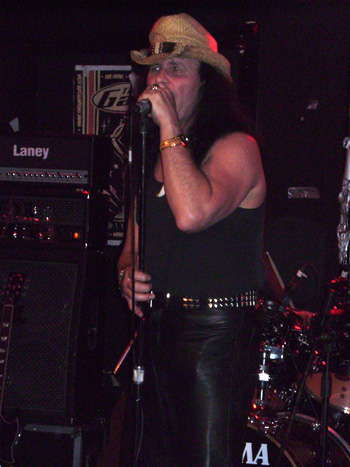 Dave Evans is probably still best known as the guy who handled vocals in the first incarnation of AC/DC, back in Australia in 73/74. He sang on their very first single 'Can I Sit Next to You Girl', the primitive video of which can be easily viewed on You Tube and various bootleg DVDs. It makes pretty entertaining viewing. Evans made way for Bon Scott towards the end of '74 and the rest, as they say, is history.

Evans himself went on to make a couple of albums with Australian band Rabbit in the 70's, but after that band split in '78, his musical output appears to have been pretty sparse, save for a single album with Thunder Down Under in 1986.
It hasn't been until recent years that his musical career has got back on track, sparked into life by an appearance with an Australian AC/DC tribute band, Thunderstruck, at a Bon Scott tribute concert, which spawned a live album in 2001.
Since then, as a solo artist, he has released two albums - Sinner in 2006 and Judgement Day in 2008. It's the UK release of the Judgement Day album that brings Dave Evans to these shores for his very first UK tour all those years later.

With the chequered history that Dave Evans' musical journey has had, I wasn't too sure what to expect from tonight's show. The answer, I'm pleased to say, was one hour of top-notch kick-ass rock'n'roll in true Oz Rock style.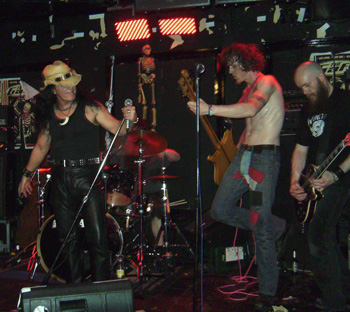 The set was pretty much entirely made up of material from the Judgement Day album, and if the album's half as good as these live versions, its going to be an album worth listening to.

Tracks like Headbanger and You Talking to Me are gritty, in-yer-face rockers very much in the vein of classic Aussie rockers Rose Tattoo, and Evans' voice does bear a similarity to that of Angry Anderson.
Aint Gonna Do You To Me Anymore, a song about a relationship beyond salvation, is a great bluesy boogie and the raucous Band Molls (apparently the Australian phrase for Groupie) hits the rock'n'roll spot once again.
The title track of the album, Judgement Day, moves the sound in a more metal direction and Shoot On Sight sounds like a Brian Johnson-era AC/DC track.

There isn't a duff moment with any of the new material, but it's the set closers that finally get the crowd moving. Inevitably we get a great version of Can I Sit Next To You Girl, that first AC/DC single which of course Bon Scott went on to re-record on High Voltage.
Baby Please Don't Go, the Them song that was a staple of AC/DC's early live shows, gets the audience singing along and is another stonking version.
The final song of the night, which Evans dedicates to Bon Scott, is a high-octane cover of Whole Lotta Rosie which brings a highly enjoyable set to a close.

Review and photos by Jim Rowland
---