DANNY BRYANT REDEYEBAND Just As I Am Continental CBHCD 2016 (2010)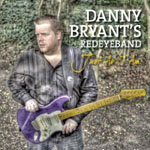 Blues/Rock guitarist Danny Bryant roars into the New Year with his best effort yet. 'Just As I Am' is an apt title for the big toned guitarist who leads his powerful trio through nine tracks that incorporate powerful licks, soulful grooves, mellifluous ballads and of course Danny's undiminished fiery passion.
This is Danny's seventh album and easily his best. The songs are strong, his guitar playing is imposing and his band comprising dad Ken Bryant on bass and drummer Trevor Barr, provide rock solid support; while the Dave Williams co-production brings out the best in his singing.
But more than that there's a fast growing maturity to Danny's work as evidenced by his impressive vocal phrasing and his unhurried heavy duty solos.
Opening with the big tone and solid groove of 'Shut Out the Light' Danny quickly slips into rock ballad format on 'Blues for Buddy' - an ode to Buddy Guy full of guttural enunciations, staccato notes, repeated riffs and overall fiery guitar work - while the following ballad 'For The Last Time' offers more expansive guitar work.
And while the tough but cluttered 'Every Time The Devil Smiles' borrows some well worn lyrics including, 'staring down the barrel of a loaded gun, wicked grin and the deal's done' and 'Mojo hand and a black cat bone, track of tears and a heart of stone', the combination of a big drum sound and incisive soloing provides a suitable resolution.
But it is to the overriding strengths of 'Just As I Am' that we should look, for this is a very good album. The title track is a tub-thumping slow burner with a chiming rhythm track and some impressive searing solos. You could almost summarise Danny's climactic power ballad style as steering a measured course through big chords, tough riffs and angst filled vocals.
It's a style further exemplified on the equally impressive 'Day By Day'. The latter employs a deep tone a la Robin Trower to bring real presence to an emotive ballad. The acoustic/electric double tracking nicely fills out the tone leaving Danny to do all the talking with a meandering solo. Only a rather perfunctory fade detracts from a mesmerising outing.
But as if paying attention to the dynamics of the album's sequencing, he quickly juxtaposes that with a Walter Trout style rocking blues 'The Hard Way' and saves his best for last on the closing 'Alone in the Dark', a delicious wah wah inflected climactic ballad.
'Just As I Am' has enough radio friendly outings - helped in no small way by the surprising but effective inclusion of John Hiatt's 'Master of Disaster' - to surely help Danny pick up more fans at home.
At present his rock /blues style has served him well on the hard gigging Euro circuit, but given a fair wind he might just finally crack his home market with an album that will surely turn a few heads.
****½
Review by Pete Feenstra
---
| | |
| --- | --- |
| | Print this page in printer-friendly format |
| | Tell a friend about this page |