DANI WILDE Shine Ruf 1163 (2010)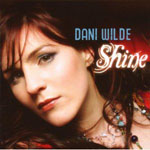 The title tack says it all really. Brighton's blues artist Dani Wilde has come on in quantum leaps since her debut album. And together with esteemed blues producer Mike Vernon and bunch of top UK session players, she's stripped of her usual tour band (save for 2 tracks) and given the opportunity to 'shine' (pun intended) in her own right.
And she makes the most of the opportunity, bringing both feel and some splendid phrasing to the groove laden title track and exploring her full vocal range alongside her brother Will's wailing harp on 'Some Kinda Crazy', as well as adding a tough solo to suggest she's been working on her two core strengths.
Dani is the kind of singer who looks for the emotion in a song and then wraps her tonsils round the lyrics to imbue them with maximum meaning. Her regular tour band guitarist Ben Poole also chips in with a stinging solo as the band stretch out on an impressive outing.
If you had to put your finger on what Mike Vernon brings to a record - aside from a characteristic power drum track, a tidy coherence and an ability to get people to relax - it is fully evident on the following cover of the Stones 'Miss You, which was apparently his suggestion.
It's a big ask for harp player Will in particular, as he manfully tries to replicate the signature Sugar Blue harp line, let alone Dani who has to tackle a song made famous by Jagger's idiosyncratic take of the song and a mid number rap, that she chooses to ignore. And while the other key component of the successful Stones version lay in Charlie Watts crisp drum track, Dani's version tries to fattened out the sound with horns and Will's wailing harp to complement her high range. And it just about works as Will's harp break is muscular enough to drive the band forward as the horns punctuate the rhythm track and a bleated guitar part signals the fade.
She also makes a good fist of the gospel influenced 'How Do You Do It' on the kind of vocal performance that would have been unthinkable 2 years ago.
Then there's 'Don't Give Up', which is easily one of her very best songs and which benefits from some cleverly double tracked vocals and possibly the most confident lead vocal of her career before Stuart Dixon's caustic solo provides light and shade and a mighty dynamic.
Dani reverts to her own band on the slow burning 'I Don't Even Care' and the lyrical statement of sexual intent that is 'Born To Love Him', either side of her 'Abandoned Child' a blues that is probably the most heartfelt thing she's ever composed.
'Where Blue Begins' is the only other cover on the album and the Dana Gillespie song provides another example of Dani's fast growing vocal maturity.
'Shine' answers a lot of questions, from Dani's improved singing, deft phrasing, and versatile pitch to her fast maturing song writing. Her brother Will has also improved immeasurably on harp and Mike Vernon wraps the whole thing with a professional sheen. And if this is beginning to sound like school report, it's probably because this is an appraisal of a young blues artist who is on the cusp of becoming a very significant name on the blues circuit.
****
Review by Pete Feenstra
---
| | |
| --- | --- |
| | Print this page in printer-friendly format |
| | Tell a friend about this page |