DANGEROUS TOYS Dangerous Toys/Hellacious Acres Ironbird (2010)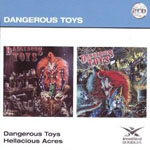 Mixing a healthy balance of hard rock and sleaze, Texan band Dangerous Toys were formed in 1987 and released 4 albums before splitting up in the late '90's. The bands first 2 albums 'Dangerous Toys' and it's follow up 'Hellacious Acres' were released on Columbia Records and are now being re-released in one package.
Debut album Dangerous Toys was released in 1989. Featuring the singles 'Scared' and 'Teas'n Pleas'n' the album quickly achieved gold status in the US. Although guitarist Tim Trembley left the band shortly before the album was released, he was quickly replaced by Danny Aaron and they carried on pretty much as was for the foreseeable future. Front man Jason McMaster has a voice not to dissimilar to Axl Rose and this was undoubtedly a strong selling point for the band.
The album has an overall solid feel and features some superb guitar work (check out the solo's on Ten Boots (Stompin')). Aside from the singles, other highlights include the awesome 'Bones In The Gutter', the tongue in cheek 'Sport'n A Woody', 'Here Comes Trouble' and 'Feels Like A Hammer'.
Sophomore album Hellacious Acres followed in 1991 and was produced by Roy Thomas Baker (Queen, Motley Crue, The Cars). Two singles were released off of the album, 'Sticks and Stones' and 'Line 'Em Up', neither of which charted and the albums sales were poor compared to the bands debut album. 'Hellacious Acres' is actually a strong record- with McMaster sounding even more Axl like and a slightly harder edged sound, it is hard to work out what went wrong for the band.
The albums highlights include the frantic paced opening track 'Gunfighter', 'Line 'Em Up', 'On Top', 'Sticks and Stones' and the bands cover of Bad Company's 'Feel Like Makin' Love'.
Line up changes followed and the bands next 2 albums were released on smaller labels, at a time when Grunge was at its peak, neither gaining the success of the previous releases. Dangerous Toys finally called it a day in the late '90's, although since 2003 they do get together at least once a year to perform together and in 2008 celebrated the bands 20th anniversary.
These 2 albums are well worth a listen and should be enjoyed at maximum volume, accompanied by cold beer.
****
Review by Nikk Gunns
---
| | |
| --- | --- |
| | Print this page in printer-friendly format |
| | Tell a friend about this page |