CURVED AIR Anthology 1970-2009 Repertoire REPUK 1086 (2010)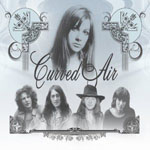 Curved Air's eclectic but compelling mix of Prog Rock/ Classical, Folk and Fusion defined a short lived era in the early 70's when music really was adventurous, bold and interesting. The band's mix of instrumental virtuosity and Sonja Kristina's sensual singing, overflowing sexuality and flamboyant stage presence was a unique combination.
And while one hit single and three chart albums was a poor return for a ground breaking outfit, their influence still lives on. Indeed so to does the band, who reformed last year and cut a re-recording of their best works on an album called 'Reborn'
This retrospective however, concentrates on the original recordings and is hand picked by Sonja and comes with Chris Welch's liner notes which take us through most of the tracks via an interview with Sonja.
The material unsurprisingly leans heavily on the band's debut 'Air-Conditioning' album (6 tracks) and includes 4 from 'The Second Album', a brace from 'Phantasmagoria' and 4 from the underrated 'Air Cut'.
The rest is made up of 4 tracks from both the 'Midnight Wire' and 'Airborne' albums. Throw in the hit single 'Back Street Luv' and a live cut of 'Marie Antoinette' from 1975's 'Curved Air Live' album and you have a coherent retrospective of sorts.
What is missing is two Francis Monkman songs, most notably 'Everdance' and the possibly less essential 'Propositions'. But there are 3 bonus tracks from Sonja's current Mask project which suggest she's updated up the innovative spirit of Curved Air and transformed it into a mix of the ethereal, the ambient and the electronic on some of her best work for years.
It would be easy to summarise this double CD set as falling prey to the law of diminishing returns, but CD 2 suggests otherwise as all four tracks from 1973's 'Aircut' album have worn well.
Later incarnations including the brilliant Stewart Copeland, Tony Reeves, line-up which is represented by the cool and less cluttered arrangement of 'Dance of Love' and the slightly more forgettable 'Woman of a One Night Stand.
Overall, this album is arguably as good as anything currently available. The 25 Curved Air tracks are full of dazzling solos, imaginative rock progressions and crossover Classic/Rock nuances, but it is the versatility of Sonja's voice that binds everything together. She soars, swoops, purrs, warbles, and almost screams at times. But she has a consistent presence born of the knowledge that no matter where the arrangements may take the band she will always steer the ship home.
On 'It Happened Today' her voice is confident and resonant while there's a sonorous hymnal quality on 'Screw'. On the jaunty rhythm of 'Blind Man' she sounds sultry and breathy in a close to the mic style and on 'Young Mother' she's soars above the melody line.
At times she has to battle over the staccato time changes, but much like the band as a whole saves her best moment for 'Back Street Love' with its expansive melodic sweep. She also offers a gentle reflective approach to her very best song 'Melinda (More Or Less)'.
CD 2 covers various line-up changes and embodies a more straight ahead rock direction. The four tracks from the underrated 'Air Cut' album include the West Coast tinged rocker 'Purple Speed Queen', another Sonja ballad 'Elphin Boy' and the Kristina/ Eddie Jobson penned masterpiece, 'Metamorphosis', on which Jobson explores all manner of keyboards.
Sonja's 'Easy' is no less impressive as she toughens up her vocals and the band return with a hint of Prog By the mid 70's Curved Air's recorded output was a pale comparison of a still brilliant live band, but Sonya's 'Broken Lady' was one of the better tracks on 'Airborn' and its nice reprise of her ballad style.
Darryl Way's classical rock opus 'Vivaldi' draws a line under the original band. The closing 3 Mask tracks showcase the undiminished timbre of Sonja's voice, which sounds like an extra instrument on the Ambient Folk influenced 'Lambent Spire'. The perfectly titled 'Space in Between' mixes the sensual and the cool on a lovely arrangement while 'Beloved' is the perfect finish, being all bowed cello strings and high register vocal swoops.
Curved Air 'Retrospective' is a timely reminder of a great band fronted by the remarkably preserved and very talented Sonja Kristina.
****
Review by Pete Feenstra
---
| | |
| --- | --- |
| | Print this page in printer-friendly format |
| | Tell a friend about this page |