Just witnessed your best live gig?.. send us a review!
CHRIS SLADE
Camden Underworld, London 16 February 2010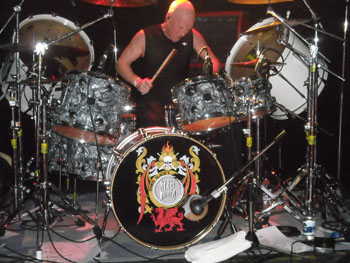 Drummer Chris Slade has had an interesting career. Enjoying life back in 1965 with fellow Welshman Tom Jones playing on such hits as 'Green, Green Grass Of Home' and 'Delilah' (It's not unusual you may think, but he didn't actually play on Jones' biggest hit), before getting blinded by the light with Manfred Mann's Earth Band, having a small conquest with Uriah Heep, getting down to some mean business with Paul Rodgers and Jimmy Page in The Firm.
Arguably his biggest break came in 1989 when AC/DC asked him to record with and later join full time for the 'Razor's Edge' album and tour, staying with the band until the 'Big Gun' single before being replaced by original skins man Phil Rudd. Last seen plying his trade with Michael Schenker, Chris Slade is in town to perform a rare solo gig.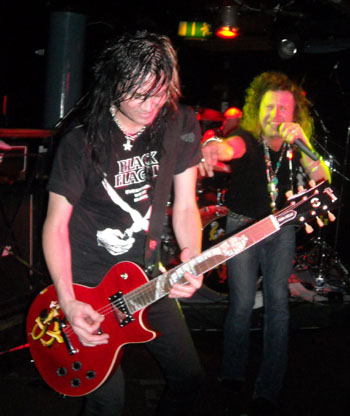 When this gig was first announced, I was hoping for a retrospective of his career, but a few days before the gig, I found out this was to be an AC/DC set. Great I thought to myself, would he perform the famed Donington set that is immortalised on DVD, or maybe do tracks that he played on which AC/DC don't do themselves any longer - like the title track 'The Razor's Edge', 'Money Talks' or the excellent 'Big Gun'?
The last time I saw Chris Slade it was with AC/DC on that very occasion when they headlined the Monsters Of Rock Festival at Castle Donington back in 1991 in front of 60 odd thousand people. Tonight on a very cold rainy night, he is to perform in front of 60 odd.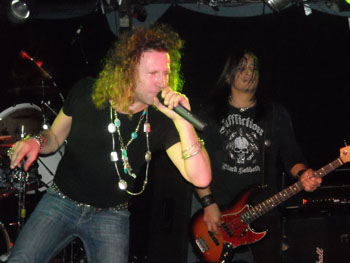 It has to be said that a quarter of the audience here tonight are infacturated girls who are here to see his fine backing band. Bringing the rock 'n roll shower to London is the singer from Dutch rockers Vengeance Leon Goewie, the Ratt pack of Robbie Crane on bass and Keri Kelli, a guitarist who has played in numerous latter day versions of LA's finest, last seen with Alice Cooper's touring band, complimented by J-Jay Bozzy on rhythm guitar.
The set wasn't what i was expecting at all, with some Bon Scott era tracks that Chris Slade never even performed live with AC/DC including 'Shot Down In Flames', 'Girls Got Rhythum' and 'Riff Raff' and the three tracks that Slade did play on that I mentioned earlier didn't get a look in.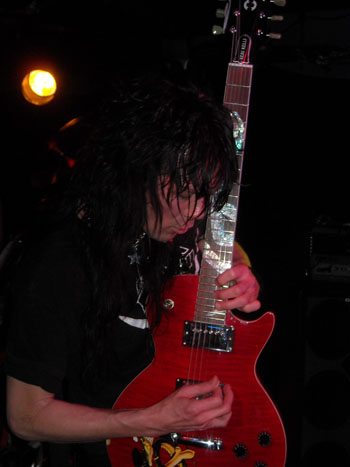 This party though was being run by Goewie and Kelli who were full of banter and giving the girls plenty of eye contact. Chris Slade himself did an excellent drum solo that left us all thunderstruck. Depsite now being 64 years of age, he is still one of the most powerful, solid drummers in the business.
For those about to be rocked on a very damp evening they were saluted by a highly entertaining band.

Set list : Dirty Deeds(Done Dirt Cheap) / Shot Down In Flames / T.N.T / Hell Ain't a Bad Place To Be / Girls Got Rhythm / You Shook Me All Night Long / Back In Black / High Voltage / drum solo / Thunderstruck / Riff Raff / Shoot To Thrill / Whole Lotta Rosie ... encores.. For Those About To Rock (We Salute You) / Highway To Hell

Review and photos by Mark Taylor
---