CHRIS DUARTE GROUP Infinite Energy Provogue PRO7328 (2010)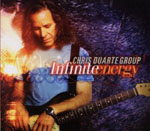 Variously described as 'the john Coltrane of the guitar' or as the natural successor to SRV - especially on the back of his 1994 'Texas Sugar/Strat Magik' album, Chris Duarte is one of the most intense rock/blues players you will ever come across.
The intervening 16 years have seen him build up a solid back catalogue worthy of a higher profile than comparisons with SRV. Perhaps there were a few albums on which his playing took precedent over songs but recent effort such as 'Vantage Point' and 'Blue Velocity' have been noticeable better efforts, while his recent diversion with the Japanese band Bluestone Company seemed to recharge his batteries. And while he's been exploring the outer edges of his pounding rock/blues style, the aptly titled 'Infinite Energy' sees him right back in the groove, doing what he does best, tearing it up with some incredible guitar playing and his trademark throaty rasp.
Chris opens with the hi-energy 'Ridin' which is full of cascading riffs and he follows that with a lyrical exploration of the urban/country divide on the intense rocking blues of 'City Life Blues'. He underpins the irony of his lyrics with lengthy, soaring Texas style excursions full of grit, dirt toned fiery licks and a pounding rhythm section
The song is full of irony about tough living in the city and the contrary stasis of country life but his guitar playing alone suggests he can't shake his urban roots. If you don't play another track on this album, 'City Life Blues' encapsulates all that is good about Duarte's playing. This is eight and a half minutes of 'playing in the moment' with genuine passion and frisson. The closing solo burns so hard that if he never played another note it would stand as the perfect summary of what he is capable of. It's also the track that offers the key to the album's central tenet of 'Infinite Energy'. In fact make that overdrive!
He does hang back a little on the bossa feel of 'Cross My Heart' on which his rhythm section offers the perfect back beat for some deftly played, clean toned explorations. But he's never too far away from an intense guitar sound and he leans into a Trower meets Hendrix feature on the big toned 'Sundown Blues', which contrasts nicely with the light SRV inflected jazzy instrumental feel of 'Cold Cold Day'.
And as if to confirm the notion that this is an album that has been well thought out in terms of dynamics and track listing, up pops 'My Heart Don't Want To Let Go'. It's an ambitious soulful song with an unlikely high register vocal from Chris with some telling call and response lines. It may not be a song that sits easily with Duarte's usual firebrand approach, but in terms of the album as a whole it gives us welcome breather before some heavy duty post Hendrix mangling on 'Killing Time'. Drummer Chris Burroughs adds a suitably Mitch Mitchell freeform feel to the track, but everything comes neatly together on the surprisingly strong harmonies of the chorus.
Only 'Me All Me' doesn't quite fulfil its potential as Chris's soloing is in danger of being swamped by Mike Varney's imposing production, which is full of what sounds like multi tracked guitars. But the closing whammy bar workout and splashed percussion of 'Hamra St' offers the perfect album resolution.
Hell, Hendrix may be long gone but his spirit resides in the hands of Chris Duarte. 'Infinite Energy' is an excellent album and certainly one of Chris Duarte's very best efforts. It is also the kind of rock/blues album that any self respecting guitar fans should have in their collection.
*****
Review by Pete Feenstra
---
| | |
| --- | --- |
| | Print this page in printer-friendly format |
| | Tell a friend about this page |