CHARLIE MUSSELWHITE The Well Alligator ALCD4939 (2010)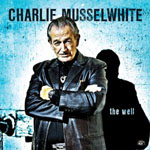 When it comes down to it blues is all about life, feelings and experiences. And Charlie Musselwhite has a lifetime of serious living to sing about. And that's exactly what he does on 'The Well', a moving album that is full of autobiographical reflection and finishes with the dreamy leap into the subconscious on 'Sorcerers Dream'. It's a song full of imagery, the origins of which Charlie can't quite fathom and is at odds with most of the other grounded material on this album.
But Charlie remains resolute and unflustered and almost stands back and emotes like a sleepy John Lee Hooker and gently guides his bluesy dream home to its quiet conclusion. It is the moment when his overall focus on the past is eventually subsumed by something from outside of his immediate experience and deep in his soul.
'The Well' derives it strength from Charlie's ability to convey feelings, moods and personal retrospection through heartfelt lyrics and deep routed harp playing, in a way that draws the listener in on the back of his colourful life. There's a handful of songs about his personal demons, family, friends and even a tale of a short spell spent in jail where he laments having being wronged.
And while Charlie isn't the world's greatest singer he saves his most telling moments for his harmonica which eloquently does his talking for him. And being from the 'less is more' school of playing, he holds back until the moment is perfect to deliver an earthy rich tone, or a flighty solo to push a song like 'Sonny Payne Special' to its perfunctory conclusion.
This is an album with an emotional reach that envelops you with real feel, presence and the weight of personal memories. All 13 tracks dip into the highs and lows of a life that as his PR suggests 'reads like a classic blues song'. The essence of this album lies in the way he conveys the power and significance of the blues without resorting to either cliché or hype. In fact the warm glow of 'The Well' could only have been generated by an elder statement of the blues who has lived a life and still has much more great music to give us.
'The Well' also marks a return to the Alligator fold for Musselwhite. It's an unlikely 20 years since his cut his best selling 'Ace of Harps, for the label, which proved to be the perfect rock/blues crossover album. But 'The Well' finds Charlie in a different emotional place, where his lyrics and occasional use of close to the mic vocals and half spoken raps evokes the shifting geographic backdrop to his life, in a mirror reflection of the journey of a blues generation from the Deep South to Chicago.
Producer Chris Goldsmith has paid due attention to the intrinsic flow of the music from the suitably titled opener 'Rambler's Blues' to the final 'Sorcerer's Blues'. It's an introspective work that deals with Charlie's past, including an unflinching account of his drinking and subsequent sobriety on 'Dig The Pain' and the title track.
There's also a couple of songs 'Where HWY61 Runs' and 'Clarksdale Getaway' that deal with memories of his childhood town. The former uses a beautiful harp tone to make up for his vocal shortcomings, while the latter is an instrumental that carries with it a bristling vibrant feel. Charlie also coins a new verb 'visitate' in his liner notes, which just like the achingly delivered vocals on most of the album, serves its purpose in communicating feelings of times past.
Perhaps the most defining moment on the cd comes on his duet with Mavis Staples on the aptly titled ode to his murdered mum, 'Sad And Beautiful'. This must surely be one of the most heart wrenching blues songs of recent times. On 'Sonny Payne Special' he plays some nice double lines with guitarist Dave Gonzales while his earthy harp playing and the undulating swing reminds me of the late William Clarke. 'Good Times' offers further reflections via a close to the mic autobiographical rap, with accompanying slide and walking bass, on a beautifully judged blues that is reminiscent of the late Blind Al Wilson.
There's a change of emphasis on the humorous 'Cadillac Women on which he employs some expressive blowing over a jumping bass line, while on the frankly cluttered N'Orleans feel of 'Hoodoo Queen' you suspect his inspiration momentarily dipped.
But overall 'The Well's is a coherent autobiographical appraisal of a harp playing bluesman of real substance. His lifetime spent living the blues is nicely captured on 'Just You, Just Blues', a song with a lovely rhythmic feel, deft wailing harp and some crystal guitar notes. It's a simple but effective arrangement with an inherent bluesy feel that could only come from Charlie Musselwhite a true blues master.
****
Review by Pete Feenstra
---
| | |
| --- | --- |
| | Print this page in printer-friendly format |
| | Tell a friend about this page |