Cut and paste history of the artist formally known as Yusuf...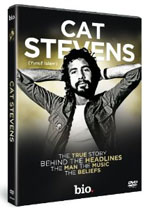 For a documentary DVD that seeks to trace the complex journey and transformation of pop star Cat Stevens, via his spiritual quest, to becoming a peace campaigner Yusuf Islam, the essence of the man comes in the very opening when in an old clip he declares; 'I listen to my future more than my past'
It's a recurring theme in the life of a restless talent whose lifelong spiritual quest only readily became apparent in his post pop career. There's quite a bit of Cat Stevens/Yusuf Islam product out there, but if you want an in depth look at both his music and the spiritual side of the man so readily referenced here, then 'Yusuf Islam - Yusuf's Cafe Session - Live At The Porchester Hall' is the DVD to purchase.
However, if you are content with a bunch of talking heads, old clips and newsreel footage to help you to simply understand the major change in his life, then I guess this scissors and paste affair of how he found his inner self will just about do.
What 'Cat Stevens' the DVD most obviously lacks is a contemporary interview of substance with the subject himself. In his absence we have to make do with a couple of borrowed clips and plenty of archive footage. And while it may be of some interest to listen to the views of Stevens musical contemporaries like Linda Lewis and guitarist Alun Davies, as well as former tour manager Carl Miller and Island records Dave Betteridge, none of these interviewees add anything to what even the most casual viewer doesn't already know.
Indeed when the quotes become clichés and the bullet point in his life become repeated two or three times - such as a near drowning experience and his being banned from the States, it all become s a little wearisome,.
On the one hand his early career change is attributed to the two near death experiences while on the other little is revealed about his role as a peace ambassador , save for the money he has invested and the fact he became caught in contemporary political events.
In many resects this DVD tries too hard to achieve credibility without the resources to sustain interest in either era.
That said it does superficially give a coherent account of the trials and tribulations of the artist formerly known as Cat Stevens - from the height of his success to walking off stage in the middle of a tour in Greece - but it fails get to get to grips with the next 15 years, relying on brief clips of newsworthy moments. In short you can't beat an interview with the subject himself. But I guess if this is a mid price DVD available on the local supermarket shelf it will probably do the job at a very basic level.
***
Review by Pete Feenstra