Just witnessed your best live gig?.. send us a review!
SOUNDS OF CALIGULA SHOWCASE
The Gaff, London 20 January 2010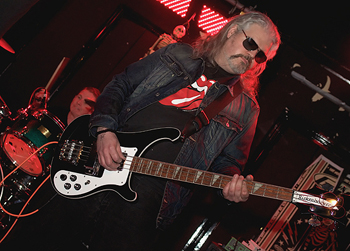 A showcase evening for the Sounds Of Caligula label featuring three bands of different styles, brought me to this North London venue on a cold Wednesday winters evening. When i was a young boy i only watched the visuals of the film Caligula with the sound turned down in the living room (Whilst my mother was asleep upstairs.) for reasons that I won't go into now, but tonight I'm here to enjoy the Sounds Of Caligula.
Pig Iron were billed as the headliners , but for a couple of reasons the band decided to go on first. With Arsenal football team destroying Bolton Wanderers down the road at the Emirates Stadium, you had more luck in finding a palm tree than you would in finding a parking space in the mean streets of Holloway. Which meant that both Kingskin and the Sons Of Merrick did a scenic tour before deciding on doing a Himalayan walk to the venue with their bags of equipment.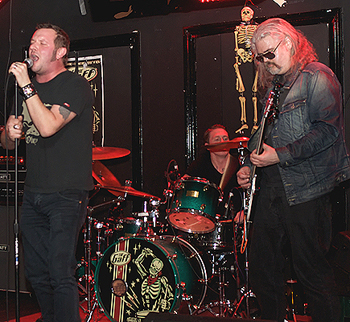 Not that it bothered the boys in Pig Iron too much ,as tonight the band decided to do a set consisting almost entirely of new material for which the band were going to record in the next few days at Toe Rag studios for their forthcoming CD 'Blues+Power=Destiny' , which should see the light of day in April followed by a UK tour.
This was a good way for Pig Iron to feel the groove of the new numbers in front of a live audience and I must say I was very impressed in what i was hearing, even a couple of days later, I could still remember the riffs.
New guitarist Ben Ash has brought more of a metal vibe to the band with some catchy hooks to songs like 'Golden' and 'Hitch'. Hugh Gilmour was laying down some heavy bass lines on his Rickenbacker that would have made Lemmy proud.
'Our Lady Of Blessed Acceleration' was another number that showed promise was also a bit funky in places. There was another song ,with no working title as yet,that had a great intro similar to Metallica's 'Wherever I May Roam' that stood out and i can't wait to hear the finished product.
I've been following Pig Iron's career since their first gig supporting Budgie almost a decade ago and now they could be on the verge of moving up to a higher level.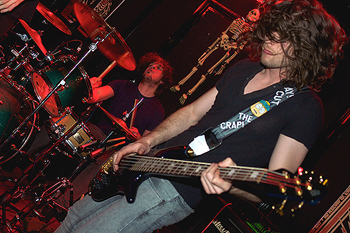 Kingskin are newest signings to the label and recently released 'Slug'. An album produced by Steve Albini, who has previously worked on albums by Nirvana and Bush and that is excactly where the sound of Kingskin lies in the middle of. You may be thinking that it's a bit late to be sounding grungy, but when you come from Dover you can be forgiven for being a few years behind and not want to sing about partying. Hailing from Kent myself I know that Dover is a nice place to come from, but not a nice place to go to..
The band have a youthful energy and would've have been too young to witness the grunge explosion first time round. With a little funky elements in their sound, I feel that Kingskin have some longevity in them. For those of you that hark back to the sounds of those early nineties check out Kingskin, where their new release will sit nicely next to those Blind Melon and Stone Temple Pilots CDs ... skin up.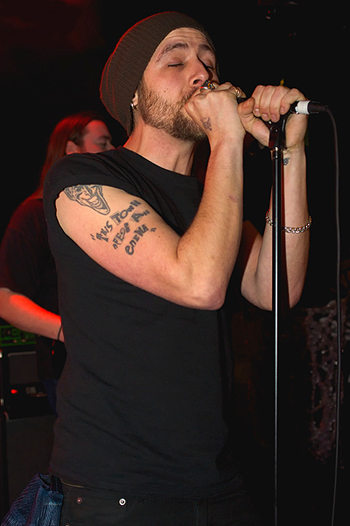 Sons Of Merrick are gradually making a name for themselves. Unfortunately time was running short and we were only treated to a few songs. This was the first time that I managed to see them properly.
The band remind a bit of Kyuss with a touch of early Soundgarden in the riff department, before launching into some manic Sabbath Paranoid expressions.
Dan Edwards plays some cool licks and singer Nick Berkshire couldn't decide if he wanted to be on the stage or in the pit. 'Striding The Valleys Of Skullumus' is a great number, try shouting out for that one after a few bevvies. I would like to see this lot again.
An entertaining evening where some new talent was witnessed up close.

Review by Mark Taylor
Photos by Bob Singleton
---