Just witnessed your best live gig?.. send us a review!
BUDGIE
Municipal Arts Centre, Pontypridd 16 April 2010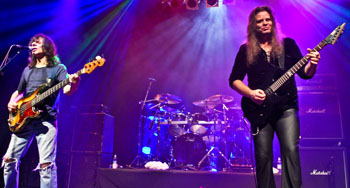 Budgie officially reformed back in 1999 to the delight of many hardened rockers, myself included. It's been a couple of years since the band last toured and when I saw this one off date announced, I jumped at the chance of taking the journey up the M4 to see one of the most influential heavy rock bands ever.
This sold out show in a converted church is a warm up gig for Budgie, who are on home soil tonight, before the band fly across the Atlantic to the States for a handful of dates. (Although the Iceland volcanic ash conspired to keep Budgie firmly perched for the time being.)
There were a few raised eyebrows by fans and the media when Dio guitarist Craig Goldy stepped in to replace Simon Lees to tour the UK a couple of years ago and I was surprised to see him still in the band for this upcoming tour.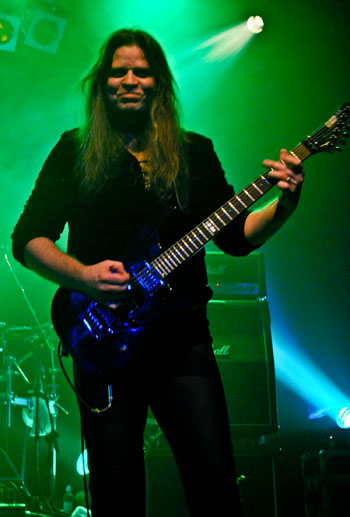 When I last saw the band at the Camden Underworld in 2008, Goldy was having problems with his equipment and seemed uncomfortable with the new musical direction he was taking. Tonight, however, he had no problems taking on those great riffs made famous by original Budgie guitarist Tony Bourge, smiling and interacting with those down the front throughout the gig.
Mainman Burke Shelley, with his muscular arms, ripped jeans and big mop of hair covering his face prowls the stage with his heavy bass, has a younger appearance than someone who will be celebrating his 60th birthday this year. Shelley is one of the most underated bass players often playing his instrument as a lead.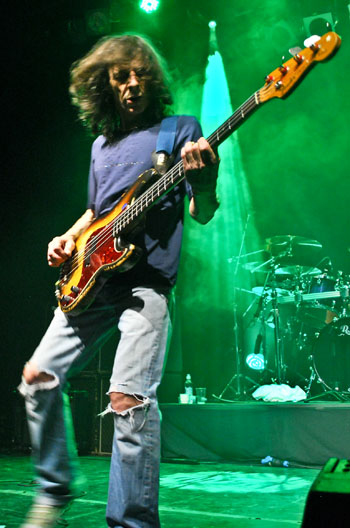 Three songs from the 2006 release 'You're All Living In Cuckooland' were aired with the fast funkiness of 'Falling' being the best. 'Turn To Stone' from 81's 'Night Flight' was dedicated to Big John Thomas, the guitarist who originally played on this track, who according to Shelley was ''Alive and Well and still living right here in Pontypridd.'' received a rapturous applause.
It was great to hear the full ten minute version of 'Parents' which featured some transcending work from Goldy which reduced a girl standing next to me to tears.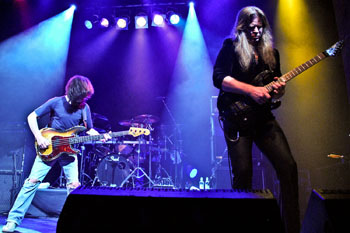 The set was almost identical to the last tour and I would've liked to have seen 'Black Velvet Stallion' or 'In The Grip Of A Tyre Fitters Hand' welcomed back into the set, but I can make do with the other clever tiles such as 'Hot As A Docker's Armpit', 'Nude Disintegrating Parachutist Woman' and set ender 'Napoleon Bona part I & II' which were all mind blowing.
Encoring with their signature tune 'Breadfan', Budgie taught a valuable lesson to those younger rock fans here tonight, but most of the audience - mostly 40-60 year old men - went home extremely happy.

Set List : Panzer Division Destroyed / Guts / Dead Men Don't Talk / Melt The Ice Away / Justice / Turn To Stone / Falling / Parents / In For The Kill / Crash Course In Brain Surgery / Hot As A Docker's Armpit / Nude Disintegrating Parachutist Woman / Zoom Club / Napoleon Bona Part I & II ...... encores ... Breadfan / Whiskey River


Review by Mark Taylor
Photos by Sonia Waterfield