BRENDAN PERRY Ark Cooking Vinyl COOKCD520P (2010)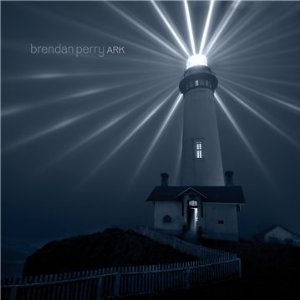 For those familiar with Dead Can Dance there are few surprises here. In fact 'Ark' is more a continuum of Brendan's imposing sense of the gothic - think Nick Cave, post Jim Morrison and Iron Butterfly's Doug Ingle style vocals - without a band. But' Ark' is a solo album in the true sense of the word as Brendan sources his own samples, utilises his own electronics and draws upon libraries of choral sounds, horns and strings and the like. Or to quote his own words; 'One cannot underestimate the influence that living and working in relative isolation has had on the making of this album'.
Initially the whole album appears infused with the dark, the doomy and the dreamy but in fact Brendan takes a wider view ultimately uncovering as much hope as desperation. His voice takes you on a meandering vocal journey in cinemascope uncovering the greed corruption and myopia of our rulers but ends on an optimistic evocation of love.
In a sense, the concluding balanced resolution is one that the observational narrator has to take if only because objectivity demands that the spotlight be pointed on the positive forces in the planet as well as the opposite corporate extremes. And for all the uncompromising observations that make up both 'Babylon' and 'Bogus Man' (the corrupt politicians etc) he cannot truly remain detached. Politicians and their corporate backers are after all but part of the same system that incorporates and distributes art like this.
On 'Wintersun' Brendan's gothic sounding vocals soar beautifully above a sampled choir bolstered by insistent percussion. The suitably titled 'Utopia' is full of portentous synth and drum machines and its lyrical richness is brought to life by Brendan's deliberate phrasing as he makes his main point at the end of each brief verse;
'Trapped within a walled suburbia, I'm building my Utopia, In this world of Dystopia'
Dark looming synth lines soar over buzzing harpsichord sounds and if you never heard DCD before this track will knock you off your feet, while long time fans will recognise as it a return to form some 11 years after his last studio album.
Of course with such an imposing voice you tend to be suckered into the maelstrom. Indeed, you may be dazzled by his vocal range which just about carries more difficult tracks like 'Inferno'. This is a song that conceptually explores alienation and isolation via the concepts of war, love, hell and joy that the narrator apparently sees on his TV. The lyrics are a shade too impenetrable and the song relies too heavily on choral voices, synth beats and a cod dramatic vocal line and frankly drags on a little. The following 'This Boy,' has plenty of merits but the music comes very close to sounding like a film soundtrack.
In many ways this is unsurprising, particularly given that Brendan's explorations of light and shade and his shift from the pessimist to strands of optimism mirrors a dramatic film script. He emotes a quite beautiful vocal line on the penultimate verse; 'Sometimes it's hard for us to find the truth in a world we no longer seem to understand. But don't let them break us, and don't let them nail us into boxes for the old man's parade'. His voice soars to effortlessly in one line to explore his startling range before swooping down to finish with an assertive lyrical posture; 'This boy's is coming home from the war, coming in from the cold, to settle old scores'.
On 'The Devil and the Deep Blue Sea' he sources the perfect samples to establish long linear lines of evolving soundcapes that evoke time and space, albeit with a retro sounding cascading sythn stutters. Electronic music has to often been tied up with the limitations of the machines that create the incredible sounds, but Brendan retains the primacy of his voice and finds a subtle balance between his words and the electronics that help bring them to life.
He finishes on the contemplative 'Crescent', looking to the stars but catching only their reflections as life on earth. He turns his back on the corruption of life placing his trust in love, life and paradise on earth; 'The heart must speak to me, In Tongues of forgotten voices, in ancient harmonies, so that I can see' He continues with an affirmation of love, 'She brings me flowers to ease the pain, She brings me light where only darkness waits'. The closing poetic flourish is delivered over a repeated synth motif, lustily dancing harpsichords, a sumptuous bass line and deep-toned tablas.
And overlooking one little vocal wobble, shortly after the 7 minute 20 second mark, it's a moving finale to a heartfelt, lovingly crafted album, worthy of your purchase.
****
Review by Pete Feenstra
---