Just witnessed your best live gig?.. send us a review!
BLAZE BAYLEY
Camden, Underworld, London 20 February 2010
Photos by Noel Buckley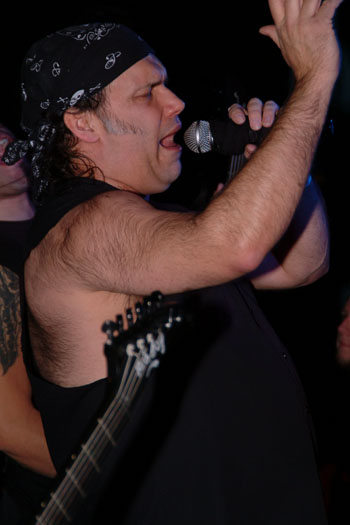 Blaze Bayley hits Camden on a Saturday night in support of the new album Promise and Terror, just released on his own Blaze Bayley Recordings label. This is the second full studio album from this line up of the band. The band are now currently half way through the 20 date UK leg of the tour and by now are sounding as sharp as Blaze's sideburns.

What struck me immediately was the genuine affection shown by the audience for this man. He's been treading the boards since 1984 through Wolfsbane, Iron Maiden, Blaze and now Blaze Bayley and built up a solid and dedicated following.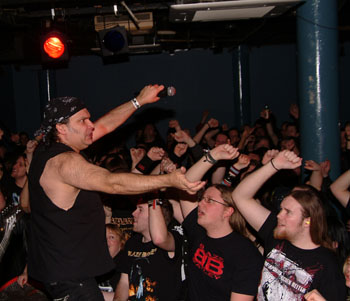 Chants of Blaze! break out from the crowd in between songs throughout the set and the man himself seems genuinely touched by the reception. The amount of Iron Maiden t-shirts worn by members of the audience, and the reception they give him, show that he's still very much regarded as a member of the Maiden family. And those fans are loyal.

The first half of the set features a fair few selections from the Promise and Terror album - City of Bones, Faceless, Letting Go of the World and 1633 give the audience a good taste of what to expect from the album. There's a definite Maiden flavour to this new material and the twin guitar work of Jay Walsh and Nico Burmudez hits the spot.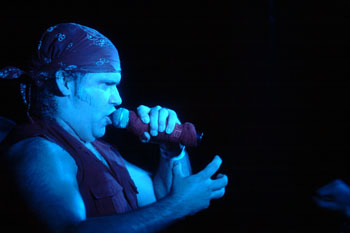 Zoom (Click large image to cancel)
The rest of the set features selections from the three Blaze albums with Blood and Belief and the excellent Stare At The Sun whipping up the crowd into sing along mode before it's time for a couple of Blaze-era Maiden tunes.
Bayley spent five years with Iron Maiden, and quite rightly expresses the pride he has in that era of his career. Man On The Edge (remember that on Top Of The Pops?), and The Clansman keep the audience singing along and the Maiden fans happy.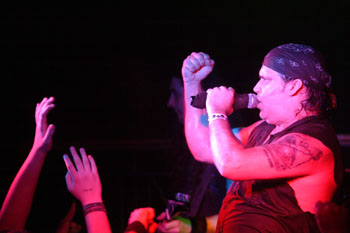 As the set nears its climax, the band seems to find an extra gear. They up the pace with two tracks from the 2008 The Man Who Would Not Die album - the title track and the excellent Robot. These are particular highlights of the set for me. A rip-roaring encore of Kill & Destroy completes a most successful night's work for the band.

The UK tour continues into March before the band head off to spread some Promise and Terror across Europe and South America. Armed with what sounds like a fine new album, this could be a very successful new era in this much loved singer's career.

Review by Jim Rowland
Photos by Noel Buckley
---