Just witnessed your best live gig?.. send us a review!
BIG ELF, London Underworld
25 February 2010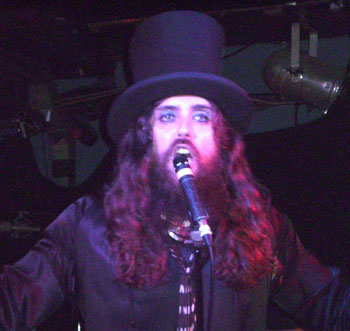 Given the current critical praise being heaped upon Bigelf as darlings of the new Prog movement, you may well be forgiven for thinking that this is a new band, fresh on the scene.
In fact the origins of this L.A. band date back as far as 1991, and their debut album 'Closer To Doom' first saw the light of day in 1996. Although known in Scandanavia and their native America since then, it wasn't really until the release of their fourth full album, last year's Cheat The Gallows, that they have started to gain any sort of reputation on these shores. And it certainly looks like they are making up for lost time now.
Championed by Dream Theater's Mike Portnoy, they appeared as part of that band's Progressive Nation Tour here last year, alongside Opeth. A few headline club gigs followed on the back of those dates which were very well received, and momentum is picking up for them now with this slightly more extensive run of gigs with Canada's Priestess.

Although not sold out, the Underworld tonight is pretty damn full both with those already converted the Bigelf cause, and those that are just plain curious as to what all the fuss is about.
They don't have to wait long to find out as the band kick off this mammoth 2 hour set with the awesome The Evils Of Rock n Roll, one of the highlights of Cheat The Gallows - a prime chunk of 70's hard rock with a killer riff, reminiscent of early Uriah Heep with a hint of Sabbath thrown in for good measure.
The set tonight comprises of just about the whole of the Cheat The Gallows album, as well as the previous album, 2003's Hex. Early on, we are also given a taste of the band's earlier output, probably not familiar to most, with the full on twisted prog assault of Neuropsychopathic Eye - a heady mix of Van Der Graaf Generator meets King Crimson. In a dark alley.

One of the good things about this band is that although they have a very distinctive sound, there is still a fair bit of variety within in, albeit with a fairly retrospective flavour.
Tracks like Mad Hatter, during which frontman Damon Fox dons trademark top hat, and Sunshine Suicide display a fine straight ahead 70's hard rock approach, whilst the Bolan-esque Superstar, Money It's Pure Evil and The Game all have an attractive pop sensibility to them.
It's been well documented in press interviews the influence The Beatles have had on Damon's vocal melodies, and Cheap Trick's Robin Zander also springs to mind in places.

The likes of Hydra, Disappear and a sprawling Bats in the Belfry are where the band really get to show their full Prog colours with Damon taking centre stage surrounded by keyboards and even a genuine mellotron - not one of the easiest instruments to cart around on tour, but essential for that authentic Prog experience.

In between songs, the banter between audience and band takes on a very relaxed and quite funny air. Towards the end of the set the band even have a light-hearted run through a few snippets of various Queen tunes, suggesting they come back to play a full Queen cover on their next visit here, probably later in the year. We'll see if they remember to keep that promise.

This really was a most enjoyable set from start to finish, and considering the tickets were a tenner for a two hour set, value for money too. The band sign off in style with Counting Sheep from the last album - a song that seems to encapsulate all aspects of the band's style in one the eleven minute epic.

If this band's star continues to rise as many predict - and they certainly deserve it - this could go down as quite a legendary show to have attended.

Review and photo by Jim Rowland
---