BEN RANDALL Love Finds A Way GRTR003 www.benrandallguitar.com (2010)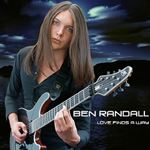 'Love Finds A Way' by guitarist Ben Randall is a stunningly good debut solo single. Barely 19 and armed with original compositional skills allied with a superb playing technique and a firm grasp of the rudiments of dynamics, young Randall brings his own 'voice' to bear on two essential guitar led instrumental rock tracks.
On the lead track 'Love Finds a Way' he confidently displays a strong sense of melody and relies on a fluid, unforced playing style alongside an intuitive feel for dynamics that goes beyond the contemporary penchant for the obvious quiet/loud dichotomy.
Both tracks suggest young Ben is a rare talent who is forging his own style in the power/metal instrumental guitar field. In fact on the title track his ability is reflected in the way he lets the melody linger and his deep tones breathe while wisely allowing the rhythm track to carry him along.
His playing style may owe a lot to the Paul Gilbert/Joe Satriani and Steve Vai school of guitarists - if only because of his virtuoso playing - but it's the primacy of the song's development that is impressive. Too often guitar led instrumental music is a dubious triumph of technique over feel and thematic development. But on 'Love Finds A Way', Ben Randall builds the momentum nicely from the song's conceptualisation to its fruition.
He saves his heavier side for the following 'Way To Burn', on which he employs a clever acoustic/electric intro with some heavy staccato riffs, some wah wah inflected spiralling guitar lines and a stunning legato technique over a thunderous drum track.
Both tracks complement each other well and show two sides of a burgeoning talent. There's a radical shift from the sophisticated thematic development of the opener to the exhilarating speedy fluid lines of 'Way To Burn' on which he bristles with unfettered explosive energy and brilliant technique.
Ben has already won the 'Most Promising Guitarist' prize on the net based 'Guitar Idol' competition, and certainly his incendiary soloing and double tracked lines on the second half of 'Burn' suggests he's got the requisite locker full of licks to match an impressive song writing talent.
Fiery, intense and burning with a real passion that is nicely tempered by an unlikely touch of maturity, Ben Randall's is certainly a guitar player to watch. At the very least guitar fans should check out the single, you won't be disappointed.
*****
Review by Pete Feenstra
---
| | |
| --- | --- |
| | Print this page in printer-friendly format |
| | Tell a friend about this page |