BEN PRESTAGE Real Music Nugene NUG1005 (2010)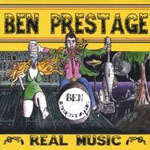 Ben Prestage doesn't make things easy for himself. He is a one man band comprising guitar, banjo, lap steel, resonator , fiddle, harp and a bunch of foot pedal that enable him to sound like a band. Well of band of sorts. He may not swing like a full band but he certainly does work up a rhythmic head of steam. And it's this crucial ability allied to some caustic vocal phrasing that gives his down home style the frisson so often lacking in one man's bands.
Too often, once the novelty of the first 3 numbers has worn off, they tend to be little more than polite interpreters. This is not the case with Ben, who throws himself in the deep end and comes up with his own take on an old genre.
He's also immersed himself in old school Mississippi Country blues, where a turn of phrase is worth countless notes. His own experience may come from swamps of Florida, but on a project like this you've either got the blues or you haven't. Ben uses the blues as an anchor, as he sets off on an en enjoyable journey on which he gathers together pre war delta blues material and he picks, slides and syncopates his way through 16 tracks and ultimately shapes them in his own image.
On the late Dave Carter's 'Crocodile Man' for example, his transforms a folky song into a blues that picks up its volition on the back of by a rock steady backing track, while the bass line on the gnawing 'Vicksburg Blues' takes the part of a wind instrument, nailing down a bottom end in sharp contrast with several full toned piercing harp blasts.
It's on numbers like this that you realise he's an artist who really does feel the blues. Ben also knows how to phrase and he's hip to the art of timing, and uses his quavering vibrato sparingly. He also has the ability to effortlessly switch to a throaty growl when emphasising a lyric. And there's plenty of variety too, especially on Washboard Sam's 'Wrong Woman (Blues)' and he includes some jaunty picking on both Blind Boy Fuller's 'Rag' and an original take of the oft covered 'Sloppy Drunk'.
On balance Ben successfully transforms some well known pre war blues into something bursting with vitality. And it's his idiosyncratic one man band approach and a rare ability to get inside lyrics and give them new sense of urgency and import that marks him out as unique.
On 'Good Gin' he adds rhythmic slide as he leans into the old Bukka White tune and reinvigorates the old country blues. He also growls his way through the title track, with guitar parts not dissimilar to JJ Cale, but perhaps without the fluidity, and makes the most of the humorous 'Save the Roach For Me'.
Ben is best on Skip James's languid 'Lazy Lazy Bones' on which he once again adds fierce harp, and extends his vibrato. He's equally good on the riff driven, growled vocal and harp squall of 'God Is Gonna Cut You Down'. Then there's the self penned 'The Ambitious' - one of two of his own compositions - which opens as a boogie and slips into an impressive rapped out groove on which he just about maps out his own nicely ragged style. He may not be a great singer but he sure can put across a lyric, and that's close enough for the blues.
For the record, the CD play list makes no mention of the lilting, dobro led, Wolf styled 'Someday Baby', which is a shame as its one of the very best dirt sounding cuts on an album that may be considered a rough hewn diamond steeped in down home blues.
****
Review by Pete Feenstra
---
| | |
| --- | --- |
| | Print this page in printer-friendly format |
| | Tell a friend about this page |