BEN POOLE Everything I Want BPCDEP2010 (2010)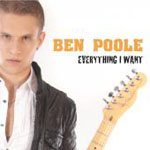 'Everything I Want' confirms 22 year old Ben Poole's high profile as a young guitar slinger who in the words of Total Guitar, 'is the guitarist to watch out for in 2010'.
This 5 track CD/EP is bursting with sufficient amounts of good technique, big toned earthy riffs and an all round versatility to make a big splash on the rock/blues market.
His solos are both dense and brusque and his singing ranges from the raw to the husky but he has a well honed sense of a groove to carry even the most modest tune to its conclusion.
Ben's first solo on the title track is everything you would imagine from a player who has been feted by the likes of Richie Toten, Jeff Beck and Gary Moore.
Bernie Torme's production unsurprisingly pushes Ben's incendiary playing into the very front of the mix and Ben doesn't let him down with some ball bursting solos.
An opening volley of notes momentarily disguises a cover of Free's 'Fire & Water' before he settles on heavy laden riffs and another fiery solo. It's the kind of well chosen cover that might stand him in good stead on the live circuit.
Ben ups the tempo on 'Watching You, Watching Me' adding some trebly notes to offset his husky voiced vocals.
The solos are a successful exercise in precise tone control and spring coil dynamics and make the most of a cool light and shade before an expansive solo.
But then the songs begin to pall a little. 'The Damage Has Been Done' evokes Ben Harper in its passionate vocal delivery, but is in truth a bit of a plodder. Sure there are big changes and Ben's solo cuts through like a knife through butter, but having established a slide led groove he growls his lines over a repeated riff that limps to the finishing line.
'Chase the Girl' is another heavy arrangement that becomes too much of a vehicle for his guitar. It drones along in a heavy mid-tempo format and makes use of a slight distortion to his tone as part of the kind of cluttered percussive arrangement favoured by many contemporary rock guitarists.
However, he does successfully search for a bit more clarity and space, as first solo completed he drops down with some potent note clusters before returning to the verse. Hard rock fans will probably lap this up, but you suspect any potential crossover rock/blues audience will bypass this hard rocker.
'Everything I Want' at least has the good grace to present Ben's undoubted talent as a CD/EP that is best viewed as a 'work in progress'.
The five tracks tick all the right boxes for guitar players but might leave general rock fans feeling just a shade underwhelmed.
File under promising start for a significant up and coming guitarist in need of better songs.
****
Review by Pete Feenstra
---
| | |
| --- | --- |
| | Print this page in printer-friendly format |
| | Tell a friend about this page |