Just witnessed your best live gig?.. send us a review!
BEHOLDER
Underworld, London 20 September 2010
Tonight's show is a Cutting Edge Industry Showcase cramming 5 bands into one manic metallic Monday night at the Underworld with the aim of proving British metal is alive and kicking.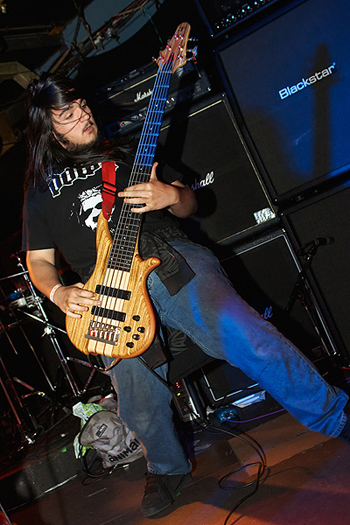 Its an early start to proceedings tonight, with the doors opening at 6. Sizen's progressive, punchy sound and Avenge Thee and Naime's dark intensity get things going in promising fashion.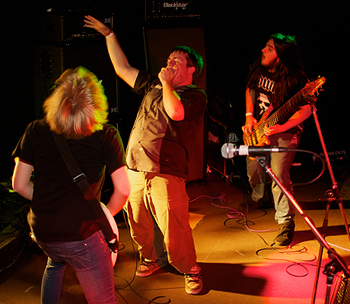 Silas get a dedicated following head banging at the front during their set. The songs are strong, the bass is really pumping, and there's some great and quite original guitar soloing going on with this band. Singer Dave Runham has a quality scream on him too!

Zocalo may not have the most memorable of names, but they more than make up for that in the musical department.
From the opening track 'Swimming Against The Tide', it's clear that heavy, swaggering grooves are the order of the day with this band.
'Providence', the title track from the band's recent e.p., has a real Sabbath feel to it, and 'Carved From Stone', highlight of the set for me, adds a large dose of funk into the mix.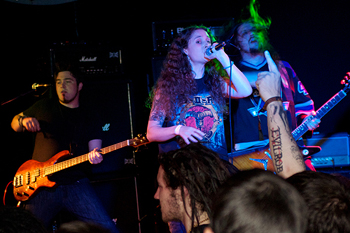 Vocalist Sarah has a strong, melodic quality to her voice, the guitars riffs are heavy, but still swing and the rhythm section pins the whole thing down, giving the band that groovy, swaggering feel.
Good harmony vocals from the bass player too, which adds a lot in the vocal department. Clutch, Sabbath, Orange Goblin and Pantera spring to mind for me, but there is still a strong element of originality to this band, which could really take them places. They get arguably the best reception of the evening here, and for me were the most enjoyable band of the night.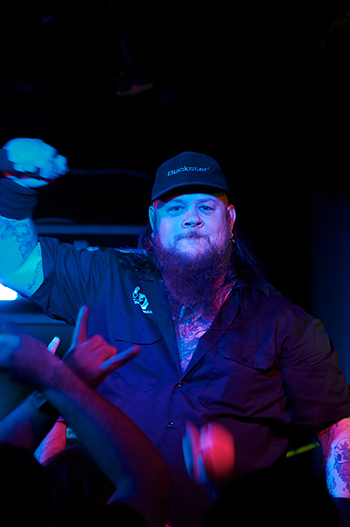 All four supporting bands tonight have impressed. They are young, talented and hungry, but understandably lack that air of professionalism that headliners Beholder display as soon as they hit the stage.
With five bands on the bill, Beholder's set is reduced to a mere 40 minutes tonight, but it's 40 minutes of intense, thunderous British metal.
Most of the set is made up of songs from the latest album 'The Awakening', with opener Snake Eyes kicking things off in fine style. Born Into Pain is a set highlight - a sprawling, brutal epic with some nice twin guitar work, reminiscent of fellow midlander Blaze Bayley's recent stuff.

Frontman Simon Hall is quite an imposing figure, clearly passionate about metal and certainly knows how to motivate a crowd.
He takes a swipe at the mainstream British rock press, all noticeable by their absence here tonight, before launching into March Of The Dead - another prime slice of pure British metal, dedicated to the fans.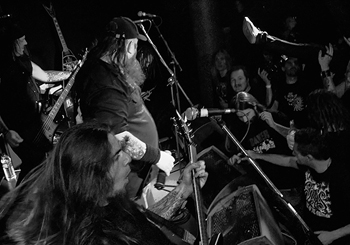 The Awakening once again illustrates the quality of the material available on the album, before the set closes with a rip-roaring version of Dio's Holy Diver, dedicated to those the rock world has lost over the past year - Mike Alexander, Pete Steel, Paul Gray, and of course Ronnie James himself.

Beholder certainly showed tonight why they are regarded a leading light in the current movement of traditional British metal, and tonight's show as a whole proved that even at a grass roots level, British Metal is most definitely alive and kicking.

Review by Jim Rowland
Photos by Bob SingletonPhotos
---