BAT KINANE A Lifetime To Kill (2010)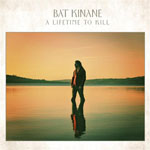 Glyder guitarist Bat Kinane has been working on a number of songs he has written that don't fit in the Glyder scheme of things and these songs form the basis of this, his debut solo album. There are a few notable guests including Rob Strong of the Commitments fame, guitarist Pat McManus (Mama's Boys/Celtus) and Dave Rose, whose worked with Johnny Cash amongst others.
One thing that struck me straight away was Bat's vocals which are very strong indeed. Maybe not suited to the hard rock sound of Glyder but a perfect fit for the blues and folk songs on this album. One song really stands out from the crowd,'Light Of My Life'. Not only does it have a big melody but midway through we get a prog rock instrumental passage, featuring a wonderful keyboard solo.
'Voodoo Bones' is great fun to listen to with an infectious blues beat and Rob Strong given a spoken word outro on some of the blues legends.
The fiddle and storytelling lyric of'The Intrepid Fox' brings a bit of folk to the proceedings and one for Fairport Convention to cover in the future - it is tailor made for their style of folk rock.
'Jeremiah Jones' is one for the radio, the most instant song on the album and a very memorable chorus. Be nice to see this kick those'X-Factor' dregs off the radio playlists.
One other song worth highlighting is'Stagestruck'74' told from the point of view of a young fan at his first Rory Gallagher gig and the effect it had on him both musically and personally. A cracking blues number complete with fine guitar solos, make this the album's heaviest song.
Many solo albums can end up ego trips of vocalists which sound goddamn awful as they can't write a decent tune outside of their main band or sounding too similar to the solo artist's main band, leaving the listener thinking why bother?
Luckily Bat Kinane's album is totally different to Glyder tapping into his love of blues and folk to produce a very enjoyable listen, helped by strong songs and top notch musicianship.
Glyder may sadly be no more but judging by this album Bat has the talent and songs to embark on a successful solo career.
****½
Review by Jason Ritchie
---
| | |
| --- | --- |
| | Print this page in printer-friendly format |
| | Tell a friend about this page |