Just witnessed your best live gig?.. send us a review!
BARE BONES BOOGIE BAND 100 Club, London
26 March 2010
Photos by Noel Buckley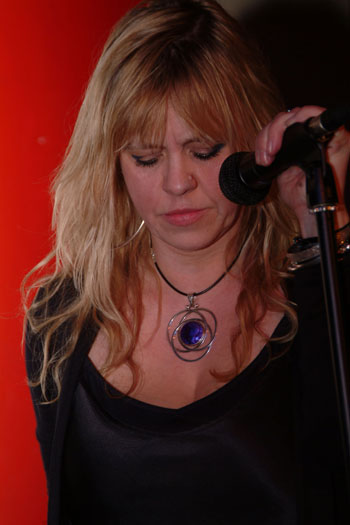 Through some good old fashioned hard gigging, London-based Bare Bones Boogie Band are building a good reputation for themselves as a potent live act, thanks in no small part to the outstanding vocals of fiery Scottish blond bombshell Helen Turner, a singer very much in the mould of the Janis Joplin/Deborah Bonham style blues belters.
On the back of their recently released self-titled debut album, the band make a welcome return to the 100 club tonight as guests of The Groundhogs.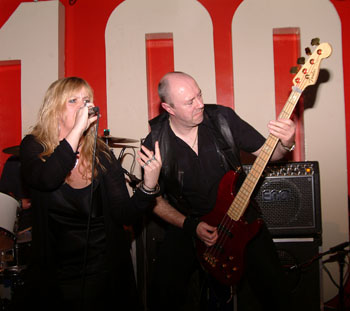 The set kicks off in fine style with Simple Suggestion, a rocker very much in the style of the Stones with a swaggering riff reminiscent of Honkey Tonk Women.
Keeping the Stones vibe going, the band then launch into a cranked up version of Jagger/Richards' very own Live With Me. Another original, Sister Sunshine, follows which has the feel of Gimme Back My Bullets-era Lynyrd Skynyrd.
Turner excels herself in the vocal department on the next track, a cover of Love In Vain, a really soulful performance.
Black Cat Strikes Back features some tasteful Kossof-inspired guitar work from Iain Black before album opener Baby Be Mine provides one of the highlights of the set - a subtle, creeping riff in the vein of Steppenwolf's The Pusher combines with a powerful and catchy chorus. Good Stuff.
Throw Me a Line once again has a Stonesy feel to it and the mean and moody Janis Joplin cover, One Good Man, gives Helen Turner the chance to wear her influences on her sleeve.
A strong version of Led Zep's Since I've Been Loving you follows. Now it's not unusual for a band to cover a Zeppelin song, but it is unusual to do it when none other than Jimmy Page himself has been spotted in the audience.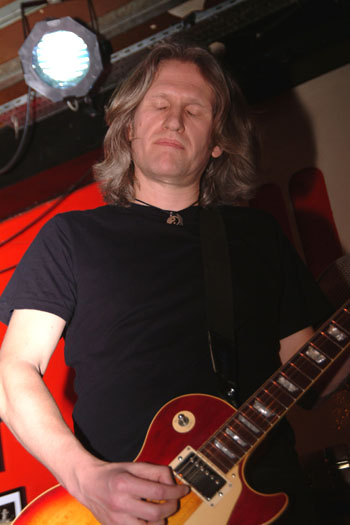 Lesser guitarists may have buckled under the pressure, but Iain Black, who's guitar work throughout the set was first class, pulls off that solo with aplomb. The band live up to their name with two full on boogie numbers, Full Tilt Boogie Man and Mary Had A Little Lamb, to close a very enjoyable set to rapturous applause from a pretty packed 100 club.

If you like good time rock, blues and boogie, you won't go far wrong with the Bare Bones Boogie Band and as we approach festival season, expect to see more of them.


Review by Jim Rowland
Photos by Nick Buckley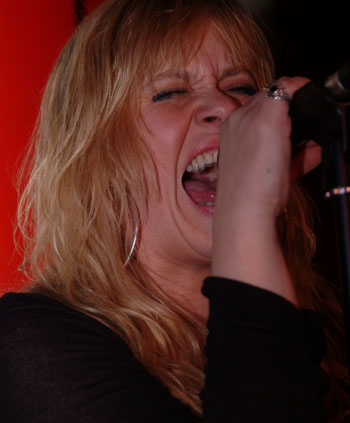 ---