Just witnessed your best live gig?.. send us a review!
CURVED AIR, MARTIN TURNER'S WISHBONE ASH, ARGENT
HMV Forum, London 13 December 2010
Photos by Noel Buckley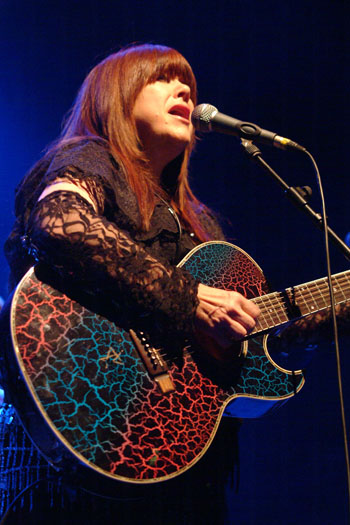 A three band bill for the class of '71 brought about a few warm feelings of deja vu and occasional moments of spark and inspiration to remind us all just why we loved this music in the first place.
Curved Air, Martin Turner's Wishbone Ash and Argent filled the Forum with the ghost of Psychedelic, Prog and Classic Rock, with the latter holding the ascendancy on a night where long songs and meandering solo's had to be clipped to fit into a limited time schedule.
To that end, Curved Air suffered most, particularly with 'Back Street Luv' being perfunctorily curtailed. Worst still, the startlingly well preserved Sonja Kristina final arm waving flourish to the front ranks was lost in the all too sudden stage blackout.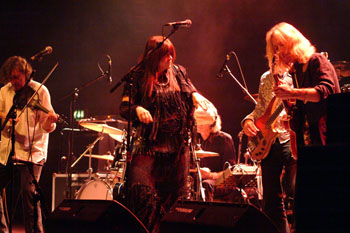 Zoom (Click large image to cancel)
No matter, her voice was in fine shape, and with her excellent band led by the virtuoso electric violinist Paul Sax, she raked over the coals with the enduring synth led, spacey 'Young Mother', the enduringly superb 'Back Street Luv' and Sax's exciting reading of Darryl Way's show stopper 'Vivaldi'. Sonya finished with a startling banshee wail on the climax of 'Properties'. They surely deserved more time.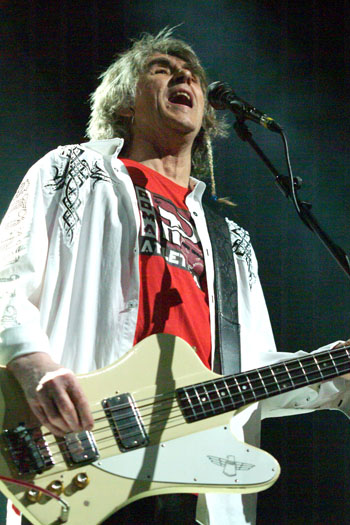 The crowd visibly swelled for MT's Wishbone Ash, who took the stage to a fine reception. And while a drum and bass heavy mix made for a muddied rather than exhilarating reprise of their fine back catalogue, Martin's rock solid bass lines and melodic voice provided the perfect foil for the twin guitar attack of Ray Hatfield and Danny Wilson.
Both 'Warrior' and 'Throw Down the Sword' enjoyed weighty reprises and by the time of the spiky 'Living Proof' and the punchy 'Jailbait' they really hit their stride. MTWA got a great deserved reception for their razor sharp set.
And so to Argent who with a palpable sense of anticipation - make that a 35 year hiatus- hit the stage with the hard riffing 'Its Only Money'.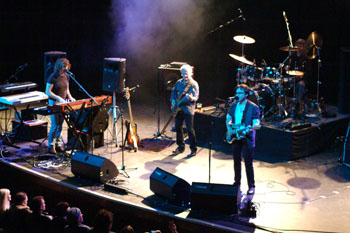 Zoom (Click large image to cancel)
Experiencing an Argent show is like going back to pre-punk times when solos were the integral part of a song and harmony singing was a valued element. More than that, Argent brought back to centre stage a sense of grandeur and via Russ Ballard, the art of the grand gesture.
With both Russ Ballard and Rod Argent in the ranks, the band boasts two heavyweight songwriters of our time, and given the excellent musicianship it's hard to pick faults with the band.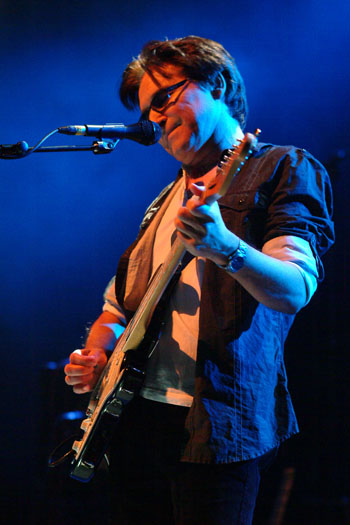 In fact tonight was an exercise in both Ballard and Argent reclaiming a handful of their commercially successful songs, from 'Liar' covered by Three Dog Night to 'God Gave Rock & Roll To You' (Kiss) and of course 'She's Not There' and 'I Don't Believe In Miracles' (The Zombies and Colin Blunstone).
All were duly aired but the latter brace possibly lacked the breathy presence of Blunstone who looked on from the audience.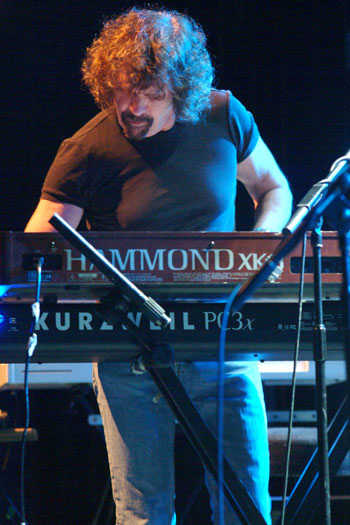 For the rest they made the most of the rocking 'Rollin On' (dedicated to Argent's late piano playing nonagenarian father), got away with the bluesy 'Sweet Mary' and made the most of 'Be Free' only to be pegged back by 'Rejoice', which lumbered a little under its own weight.
That said, Argent gave as good as they got and after the band reprised their big hitters including the powerful 'Hold Your head Up' they duly received a standing ovation.
As with all three bands tonight it was more of triumph of nostalgia than a cutting edge return. But for the cheering multitudes the enjoyable flashback probably sounded just as vibrant and essential as all those years ago.

Review by Pete Feenstra
Photos by Noel Buckley
---