Just witnessed your best live gig?.. send us a review!
ANVIL, Girlschool
Islington Academy, London 15 June 2010
Photos by Noel Buckley
Not many people knew that this gig was still still taking place tonight. Originally LA rockers Ratt were to headline but once again cancelled due to hernia operations or drunken boat antics depending which story you believe to be true, not that it bothered any of the true metallers here tonight.
Anvil fans are split into two categories. There are the long grey haired rockers, now in their forties who first witnessed Anvil back in the early eighties when they released a trio of now classic albums before the band disappeared from this shores for some twenty years, and a much younger audience who only first heard of the band after watching the acclaimed film 'The Story Of Anvil', an award winning film documenting the passion of a band who refuse to give in.
It was a busy night in London for gigs with Hellyeah, Enuff Z'Nuff and Aerosmith all plying us to empty our wallets, but my money was on Anvil and Girlschool who are always a winning bet for a good night out.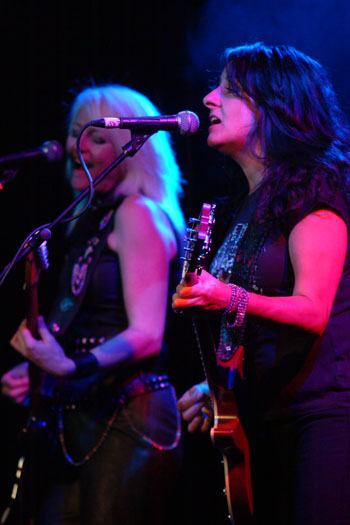 Back in 1981 Anvil supported Girlschool on a tour of Canada, tonight the tables are turned and the South London girls are back on a perfect double billing. Girlschool were my favourite band at the recent Hard Rock Hell bash with some perfectly honed tunes and the constant chirpy chattering banter of the girls in-between the songs makes you feel that you are at home with your big sister who has invited her pissed up mates round to the house.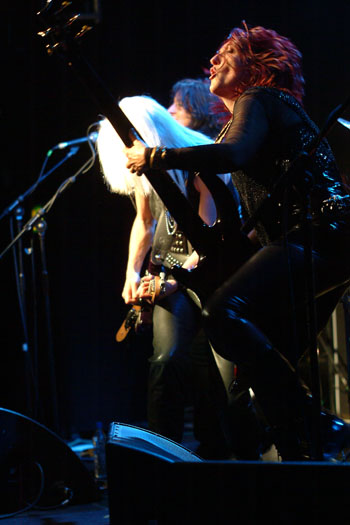 With many bands paying tribute to Ronnie James Dio in recent weeks, the girls go one better by playing 'I-Spy' from their latest album 'Legacy', a song that actually featured vocals from Ronnie and riffs from Iommi. A set that was filled up with all our favourites, but a hit 'n run set of forty minutes does not do Girlschool enough justice and I look foward to seeing them do a headline show again where I hope they can blend in more recent numbers with those classic tunes, but until then, this suited me just fine.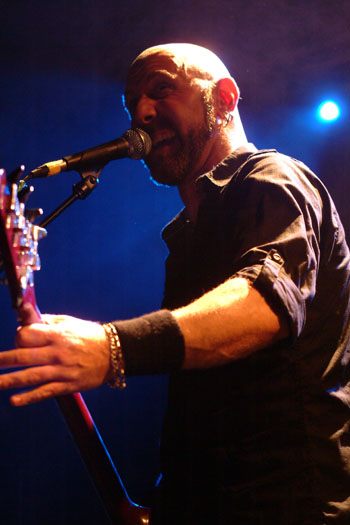 Anvil are clearly enjoying their second chance in the spotlight with the loveable Lips smiling throughout, happy to be playing to an adoring crowd on foreign soil yet again. Lips looks directly into my eyes and holds up five fingers and one thumb and waves them twice to indicate that the next song is '666', on the third wave it's five fingers and for the sixth digit he uses his raised middle finger, the cheeky sod.
The hard 'n heaviness of 'School Love' is pure metal thrashing - written before there was even a thing called thrash. ''Did i pay my sister back? You're sure hell i did.'' As Lips refers to the $10,000 dollars his sis lent him in the film to make 'This Is Thirteen' as the band give us the title track.
Ronnie James Dio gets another dedication ''I was listening to Black Sabbath when I was a kid'' says Lips, ''I'm now in my fifties and I'm still listening to Black Sabbath'' before going into the doomy 'Thumb Hang'', the first song Lips wrote with drummer Robb Reiner when they were kids and has finally been resurrected.
The best song of the night though is a monstrous ten minute version of 'Mothra' complete with Lips bringing out the infamous dildo for some slide action.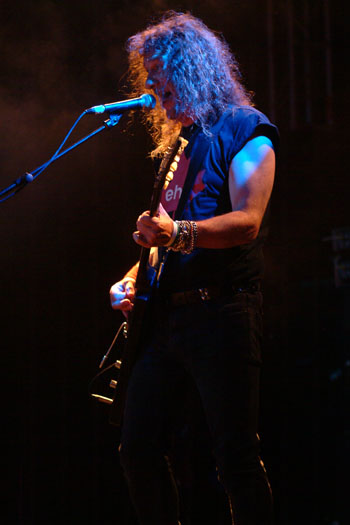 I wish the band would play some more material from their wilderness years because they have produced some quality that needs to be heard. Although we do get 'White Rhino' which features some powerhouse drumming from Reiner which shows why he is such an admired musician, and also the Ted Nugenty feel of 'Mad Dog' from 87's underrated 'Strength Of Steel' LP.
Everyone knows 'Metal On Metal' which goes down a storm and is one of five tracks from that seminal album of the same name, that is played tonight. We only get the one encore, a breathless version of the gonzoid 'Jackhammer', a track that pre-dates the tomfoolery antics of Anthrax by a few years which influenced the New Yorkers so much when making the 'Spreading The Disease' album.
With a new album already in the can, get set for 'Juggernault Of Justice' when it's released because Anvil are a band that should truly be treasured. The band are the real deal.

Set List: March Of The Crabs / 666 / School Love / This Is Thirteen / Mothra / Flying Blind / Thumb Hang / White Rhino / Mad Dog / Forged In Fire / Metal On Metal ...encore.. Jackhammer


Review by Mark Taylor
Photos by Noel Buckley
---