Just witnessed your best live gig?.. send us a review!
AIRBOURNE Hammersmith Apollo, London
1 April 2010
It was rolling thunder and pouring rain in the capital early this evening, but it was the thunder from down under that everyone was talking about. It's the night before the bank holiday Good Friday and tonight has a feel good factor of a Saturday night feeling about it with the amber nectar free flowing...
Aussie rockers Airbourne are about to play their biggest headline date in the UK at the legendary Hammy O following in the footsteps of AC/DC, Motorhead, Judas Priest, Saxon and many other denim 'n' leather clad heroes. With AC/DC on the verge of retiring, it is down to Airbourne to raise the flag for good time boogie metal.
It is a compliment to Airbourne to say that they are AC/DC clones, but they are more similar to Swiss fellow acca dacca copyists Krokus. Hellfire, the band even copied the Krokus logo.
Opening up and taking a gamble were Las Vegas rockers Taking Dawn who were onto a winner with their kick ass rock 'n' roll a la Skid Row meets the melodic side of Ratt. With a new album out on Roadrunner records, the band will have some more 'Time To Burn' when you can check them out for yourselves when they support Kiss on the upcoming 'Sonic Boom' tour. Hallelujah.
Black Spiders had a half hour to win some new fans with their Soundgarden meets the Wildhearts inspired rock. With some strong Cornellish vocals and neat grooves the Spiders will find some new friends on the web after tonight's performance.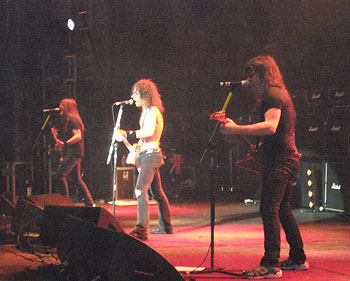 The night belongs to Airbourne who come on stage as conquering heroes who give us the best in high voltage rock 'n' roll. Energetic frontman Joel O'Keeffe is happy to be here, rightfully calling the Apollo by it's original name of Hammersmith Odeon.
After the demise of the Astoria, O'Keeffe wants to keep the Hammersmith 'Odeon' alive forever by raising a beer and getting us to repeat ''I will protect Hammy O as long as I'm alive, rock 'n' roll will never die.'' Wise words indeed.
With a backline of Marshall stacks, the band were playing on eleven. With only two albums behind them, some of the songs had more padding than Katie Price's bra, but David Roads and Justin Street could easily fill in for Young/Williams on the rhythm.
Joel O'Keeffe later amazed everyone by racing through the standing crowd and appearing seconds later on the front of the balcony still playing and not missing a beat. Later on, he would be throwing cans of beer to the thirsty ones on the front of the cheering balcony.
From their debut UK gig at the Borderline gig a few years back Airbourne have done it no way but the hard way and were running wild tonight.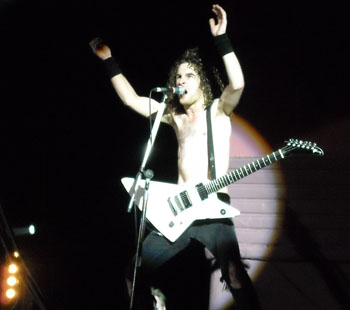 Certainly not a case of too much, too young, too fast. The bad boys, rag dolls here tonight were treated to a classic gig. Taking one vice at a time Airbourne can take it to the top.
A four XXXX performance. Let there be rock. Let there be Airbourne.

Set List : Raise The Flag / Hellfire / Chewin' The Fat / Diamond In The Rough / Girls In Black / What's Eatin' You / Born To Kill / Cheap Wine & Cheaper Women / Steel Town / Back On The Bottle / Heartbreaker / No Way But The Hard Way / Too Much, Too Young, Too Fast ....encores...Runnin' Wild / Stand Up For Rock 'N' Roll / Blackjack

Review and photos by Mark Taylor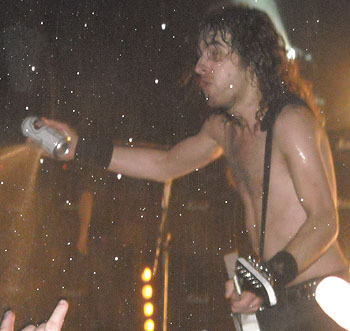 ---