Just witnessed your best live gig?.. send us a review!
ACHILLA, Purple Turtle, Camden, London
16 September 2010
Photos by Noel Buckley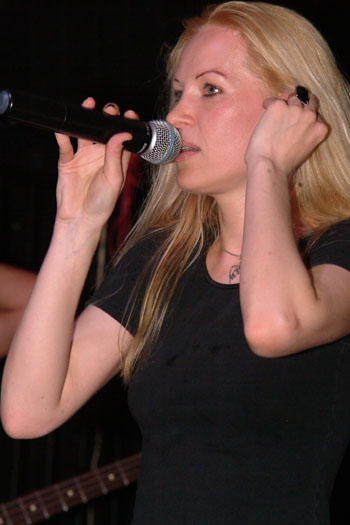 Fresh from recently supporting Delain, British based goth melodic rockers Achilla are headlining the Purple Turtle to celebrate the launch of their debut single 'Arashi', but they have their work cut out tonight as there was a vast array of talent on offer before them.
With a four band bill, normally the first band only plays to the sound technician and the one man and his dog. That was certainly not the case for From Great Height who pulled in a lot of punters at such an early time.
The band played a metalized progressive rock set which combined the guitar metal elements of Iron Maiden mixed with the sounds of early Genesis and Marillion.
Led by Adam Ever on synth and vocals who emulated those Peter Gabriel days by not only sounding like him , but also wore the make-up that has since became a trade mark for all things prog.
A new band for a new age that are capable of crossing over into any mainstream of rock.
Another band that impressed me were M.I.N.D. It took a couple of songs before i really took any notice but it was the guitar work of Andria Gomez that really stood out.
Like Chantel McGregor, she looked too cute to be playing these formidable notes. A power jazz rock fushion blending the works of Tool, Dream Theater and Joe Satriani. Songs like 'Secret Sin' and 'Coma' should awake you to their greatness.
Slightly abstract were Ghost In Mirrors, an Anglo-French band that would appeal more to the indie-alternative crowd, but who could well give them a good few prog lessons.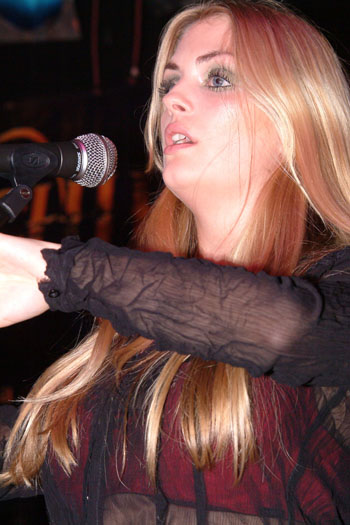 Singer France Amann comes across as a mixture of Bjork and Evanescence's Amy Lee. When she's not too busy singing and dancing, she gives us a few notes on her glockenspiel (That's a xylophone to you and me mate.)
The band are starting to make a splash on both sides of the channel and have received positive reviews of their debut 'Ryders Dismount'. Worth checking out if you're looking for something a little different.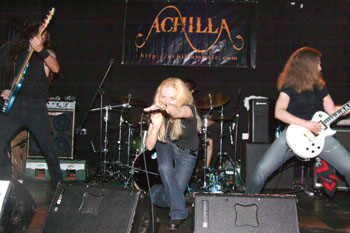 It was left to Achilla to blow up an arashi. (That's Japanesse for 'storm'). Although the band are based in London, the band are doing the E.U freedom of travel a world of good by featuring two Italians, a Greek and a Hungarian.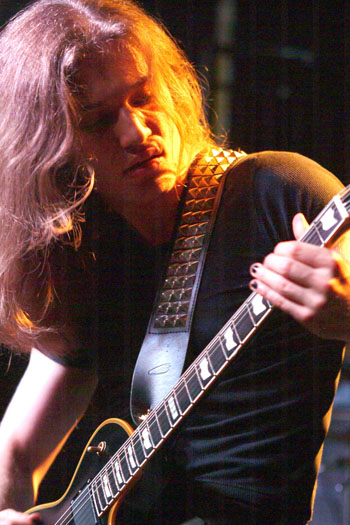 Daniele Panza plays some clean sounding crisp guitar complete with melodic solos. Hungarian babe Martamaria is the centre attraction. With a slimline frame that would make wannabe models go anorexic trying to compete and long flowing blond hair. When she puts her body and soul into the music, she looks like a willow tree in full bloom.
She can be a little wooden when introducing the songs as she is still not fully used to using the English tongue (Although that never deterred James Bond) but her singing is faultless.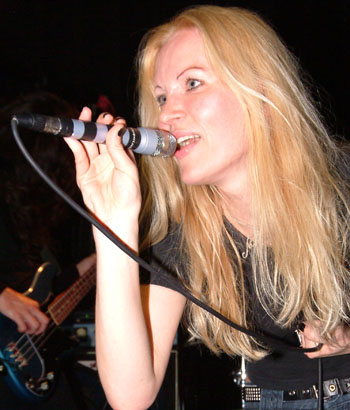 After the eruptive 'Volcano' that almost made me blow my top, came the new single 'Arashi' which is good as anything I've heard recently by the likes of Within' Temptation or Leaves Eyes, which is where Achilla's true competition lies.
'Fever' was a slow building number that built up heavilly which showed of Martamaria's true talent with some high pitched vocals that would of shattered my pint of beer had it not been in a plastic cup.
'Wild Flower' was the first song the band ever wrote and is also available on the single in an acoustic style. Ending the set with some of their better numbers including 'Your Face', a song about friends not seen (And , no, it's not about Facebook) and 'Timeless' which will be the title track of their album when it will be released in the not too distant future.
Achilla already have a following that will surely grow. They have the ability and vision to take it to the next level.
A highly enjoyable evening featuring four talented bands that are all worthy of your investigation.

Achilla set list : Mirrors / Volcano / Arashi / Rich / Fever / Wild Flower / Hunted / The Devil's Eyes / Your Face / Timeless

Review and interview by Mark Taylor
Photos by Noel Buckley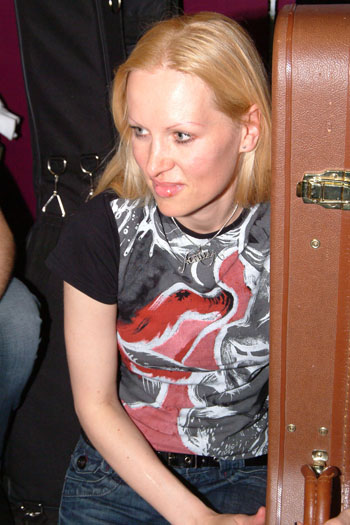 ---