Just witnessed your best live gig?.. send us a review!
ACCEPT
Islington Academy, London 26 May 2010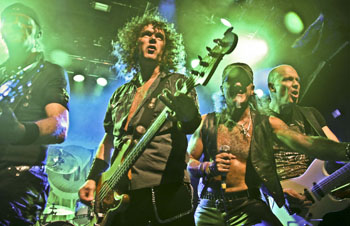 I was foaming at the mouth when this gig was announced and when I was fortunate enough to be invited along to interview the band and listen to the playback of their first studio release in fourteen years, I was one happy little headbanger.
German rockers Accept are in town to play a one off gig to promote the forthcoming 'Blood Of The Nations' album which will be out on Nuclear Blast at the end of August. The snarling pitball Udo Dirkschneider has decided not to take part in this reunion but Accept have found a great replacement in former TT Quick American singer Mark Tornillo, who has that classic razor blade throat voice which complement the Judas Priest on Speed riffs of Accept.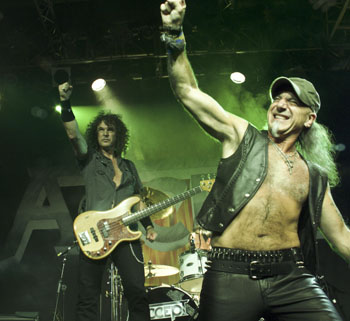 Listening to the new album before the gig, I'm glad to report that Accept have made their best and most accessible album since 84's 'Balls To The Wall' and certainly most heaviest since 82's 'Restless And Wild'. All killer and no filler, this album will frazzle your brain.
So what about Accept as a live act in 2010? (Their first in the UK since 1986.) Accept come on stage as conquering heroes storming into the anthem 'Metal Heart' and despite supporting AC/DC in Hannover the night before showed no signs of metal fatigue.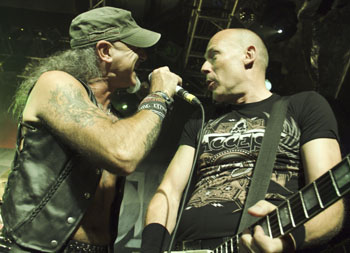 'Restless And Wild' got me air V guitar-ing for the first of many times tonight along with many grown men. 'Son Of A Bitch', surprisingly early in the set, was a fist thumping crowd pleaser. Tracks such as 'Losers And Winners' and 'Run If You Can' were surprising additions to the set which brought back many teenage memories for me.
Only two new tracks were performed tonight, in what I can only imagine is to stop the mobile phone bootleggers uploading the new material onto Youtube before the album is released.
The already available tracks 'The Abyss' has a melodic epic heavy punch and 'Teutonic Terror' for which the band have made a computer crashing video clearly states where Accept are today which it's chorus line of ''Give 'em the axe!''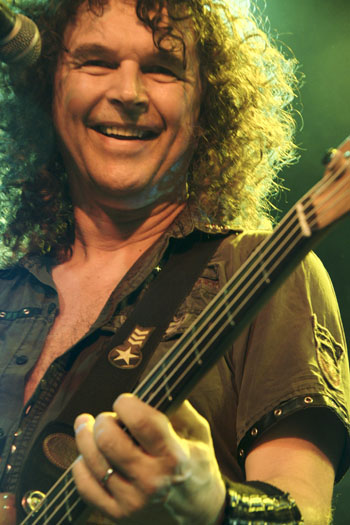 The classic twin attack of the V guitars is all there to see from Wolf Hoffmann and Herman Frank with original bassist Peter Baltes still looking youthful with his curly locks. Hoffmann later doing a guitar solo which featured snippets of 'Bolero' and 'Sabre Dance'
The gig was turning into a metal marathon lasting over two hours with many head crunchers thrown in such as 'Bulletproof' from 93's underrated 'Objection Overruled' and the set ender 'Burning', the band were simply on fire and weren't about to be extinguished just yet.
The gig was so orgasmic that it was easy to forget that the band hadn't yet played their best songs. Another surprise of the night was the inclusion of 'I'm A Rebel' a song originally turned down by AC/DC . 'Fast As A Shark' the pre thrash song included that famous German intro of 'Hi-de-hi-ho-da-da' was perfect beer swilling man hugging time.
Sabbat's Andy Sneap, a long time Accept fan who also produced the new album, joined the band in a triple assault for 'Balls To The Wall' certainly plugged a bomb in everyone's arse where we all responded by showing the sign of victory.
Oh! What a night! Get ready for the new album and don't miss them next time they do the tour proper. Metal at it's finest.
Set list : Metal Heart / Midnight Mover / Living For Tonite / Restless And Wild / Son Of A Bitch / Losers And Winners / London Leatherboys / The Abyss / Run If You Can / Teutonic Terror / Breaker / Bulletproof / Neon Nights / Up To The Limit / Demon's Night / Turn Me On / Monsterman / Burning ....encores .. Princess Of The Dawn / I'm A Rebel / Fast As A Shark / Balls To The Wall

Review by Mark Taylor
Photos by Karen Toftera
---