Just witnessed your best live gig?.. send us a review!
ZZ TOP/Steel Panther
Wembley Arena, 28 October 2009
ZZ Top almost stole the day on the Classic Rock stage at this years Download Festival, bringing their Texan boogie to the masses. It was with that triumphant display that the Top are back in the UK for two more dates, one at Wolverhampton and tonight at the Wembley Arena.
With no new album to promote, Steel Panther were announced, surprisingly, as guests in order to put more bums on seats, the oddest pairing since it was announced that Motley Crue were to support Wishbone Ash back in 1982. Although that tour never went ahead but one for you historians to look into, but what a gig that would've been.
It's fair to say that many younger fans were here for the Panther or for the men to bring along their partners to drool over the Yankie sensations.
Steel Panther recently blew the doors off the Shepherds Bush Empire and like I said in my review of that gig I was hoping tonight with a short 40 minute slot, they would cut short the between song banter and give a shock and awe set, but instead of pumping the steel with those great songs from the debut we only got a few and also did an unnecessary cover of Journey's 'Don't Stop Believin'. Tonight was a great chance to win over the doubters, although the converted didn't need any preaching. Still a good performance but I felt that Steel Panther were caught with their steel pants down.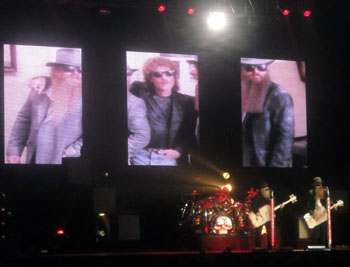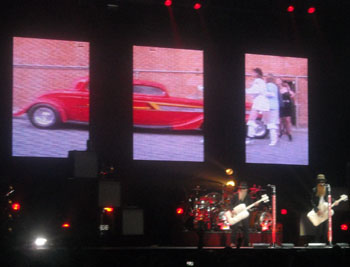 ZZ Top's set was perfect for the connoisseur fan, with the majority of the set coming from those pre Eliminator days. The pairing of 'Waiting For The Bus' and 'Jesus Just Left Chicago' always sets the mood for these boogie merchants. 'Future Blues' was a surprise choice which is an old standard blues number from the Thirties.
Wembley Arena is not the perfect setting for the bar room music of the Top but as the night wore on and with the beers flowing both band and audience were finding their groove.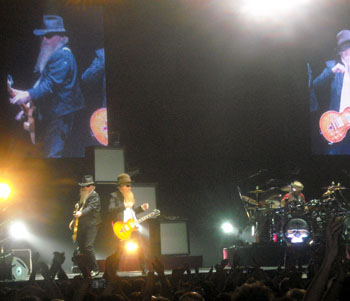 'Cheap Sunglasses' brought the air guitars out for the first time. 'I Need You Tonight' was pure blues heaven. 'Foxy Lady' the Jimi Hendrix number was a surprise cover.
Just like Quo's Parfitt and Rossi, Billy Gibbons and Dusty Hill are a double act that grab your attention coming to their forte on the triple barrage of those monster Eliminator hits at the tail end of this set, taking the temperature up another notch.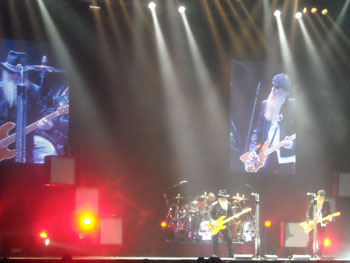 Zoom (Click large image to cancel)
You couldn't go wrong with the encores of 'Tube Snake Boogie', 'La Grange' and the classic 'Tush'. It was enough to make you want to put a pair of dungarees on and grow a beard, although the young Steel Panther fans here tonight may not agree.
Squeal little pig, squeal.

Review and photos by Mark Taylor
Set list : Got Me Under Pressure / Waiting For The Bus /Jesus Just Left Chicago / Pincushion / I'm Bad ,I'm Nationwide / Future Blues / Cheap Sunglasses / Mexican Blackbird / My Head's In Missisippi / I Need You Tonight / Foxy Lady / Party On The Patio / Just Got Paid / Gimme All Your Lovin' / Sharp Dressed Man /Legs ....encores... Tube Snake Boogie / La Grange / Tush
---