Just witnessed your best live gig?.. send us a review!

Z ROCK, JBs, Dudley, West Midlands 30/31 May 2009

In the small and incestuous world of melodic rock, the Z Records festivals have, to put it kindly, proved controversial and this appears to have taken its toll on the paying public's willingness to attend, judging by an attendance of under 300 for each of their two days at Dudley.

Swedish glam rockers Wig Wam headlined the first night supported by the reformed Stampede and Steve Grimmett, while the missing hundreds missed out on what proved to be a cracking Saturday line-up.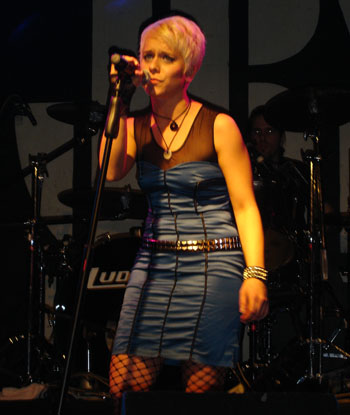 Things did not start too promisingly with female fronted pop rockers from Austria, Cornerstone, looking rather uneasy on stage; they had their moments, notably with covers of Night Ranger's When You Close your eyes and Amanda Marshall's Fall From Grace, but their own material needs some working on.
I had equally limited hopes for Hungarians H.A.R.D, not least because of their name, but ended up impressed by their enthusiasm, gruff vocals, some very Purple-esque Hammond organ and songs like Stay, Two Hearts and Run Run Away , not to mention a bizarre song that seemed to set Whitesnake's Give Me All Your Love to new lyrics!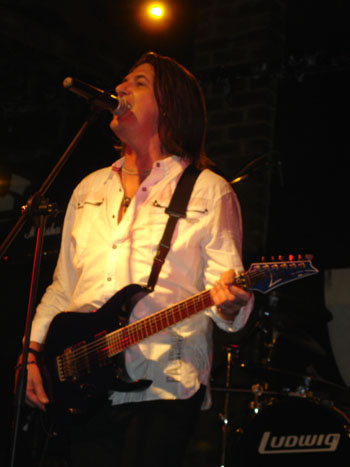 With the Cup final out of the way, the music also stepped up a notch with Steve Newman's eponymous band. Oddly for someone who plays so rarely live, he had a great stage presence, working the small crowd and running from side to side obviously enjoying himself.
The band stayed more in the shadows but were a competent foil as he played a selection of songs from nearly all of the several Newman CD's from the last decade. Particular highlights included Every Moment, a new ballad Stay With Me, some great musicianship in the powerful Pray for the Day and One Step Closer, which could have been a big hit in the hands of the right band. The good news is also that the band are finally to play regularly live.

Eden, featuring ex-Kick singer Nick Workman and sometime Bob Catley guitarist Vince O'Regan, were musically polished but their modern, progressive slant on melodic rock became a bit unrelenting with no change of pace, and worse no hooks to speak of, with the result that their set rather dragged.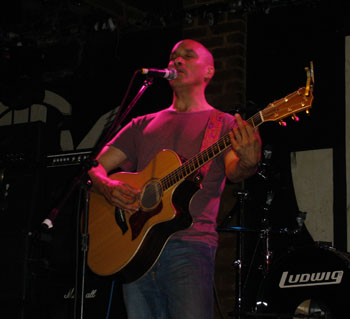 In contrast, Dan Reed, armed only with an acoustic guitar, his humility and humanitarian view of world politics, was a breath of fresh air. Were it not for his history with Dan Reed Network, his sensitive singer-songwriter approach would have belonged more in a Greenwich Village coffee shop than a rock festival in the West Midlands.
However the crowd lapped him up, particularly when old Dan Reed Network songs like Lover, Long Way to Go, Rainbow Child, Stronger than Steel- where he switched from guitar to keyboard- and Ritual were played. I never really got into DRN back in the day- too funky - but after this set I resolved to do so before he returns in the autumn with a full band.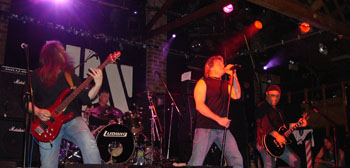 Von Groove have pulled out of Z Rock at least twice so it was a relief to see the Canadians make it this time. Well, up to a point as singer Michael Shotton was the only original member and a band, including Vince O'Regan, was hastily assembled to back him and after only one rehearsal were naturally a bit ragged in places.
But they had fun and he once again proved himself one of the most energetic, yet vocally precise, front men in the genre. The set stuck to the band's best-known numbers including Chameleon, Lily and Oxygen, before ending with a double from their self-titled 1992 debut, House of Dreams, with Michael taking a turn at the drumkit he used to occupy, and Once is Not Enough as he sortied into a slowly growing crowd to get some participation. A cover of Fat Bottomed Girls was also a bonus.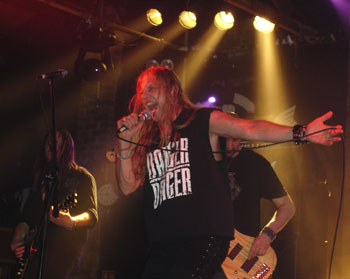 I expected Ted Poley to major on his recent album with Vic Rivera, who was one of his two guitarists, but in fact the Danger Danger frontman played eight songs from his day band out of the eleven in the set.
Sound problems affected much of the start of his set: however the day was saved by his own infectious, larger than life enthusiasm and DD's party hardy anthems - Bang Bang, Monkey Business, the more rarely played Shot of Love and set closer Naughty Naughty among others. Yet it was probably the ballad I Still Think About You which generated the most impact with a big singalong.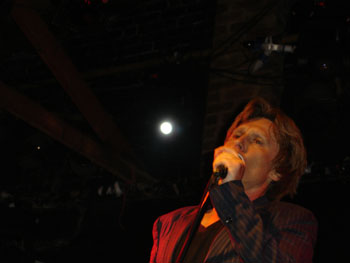 Having seen John Waite in recent years in the States do some rather mid-tempo gigs, and fearing the small size of the crowd might disillusion him, I was nervous the headliner might prove a disappointment.
All reservations were dispelled when he hit the stage after midnight, looking dapper in a suit and improbably trim and youthful, and opened with a cracking trio of rockers - Change, with excellent solos from both guitarists Jimmy Leahy and Luis Maldonado, the Babys' Back On My Feet Again and Straight to Your Heart. When I See You Smile was given the full power ballad treatment, and his other US No. 1 Missing You, now something of a standard, also got played.
However to my relief his recent, introspective, material was generally overlooked in favour of more in your face material, including a cover of All Along the Watchtower, a third Bad English song in Best of What I Got and, most surprisingly of all, a pair from the 1987 solo classic Rovers Return in Act of Love and Encircled (whose guitar riff was then lifted by Alice Cooper, who shared a guitarist, for Poison).
A trio of Babys songs rounded out the set - Isn't It Time, Midnight Rendezvous, with some great guitar work form Luis, and the irresistible Head First, which I had been waiting for all gig.
An encore of Rock n Roll rounded out an 80 minute set, short on communication with the crowd but a triumphant return to a UK stage for the first time in over 22 years.

For my money, this was the strongest and most enjoyable Z rock in many years. However its hard to see how much longer this festival can be sustained on such low numbers and ambitious promises every year, many of which go unfulfilled.

Review and photos by Andy Nathan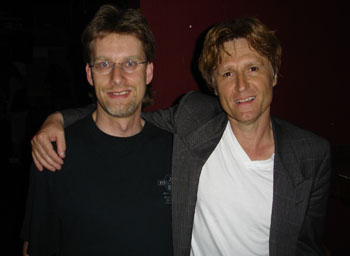 ---