Just witnessed your best live gig?.. send us a review!
YES, Hammersmith Apollo 17 November 2009
Photos by Noel Buckley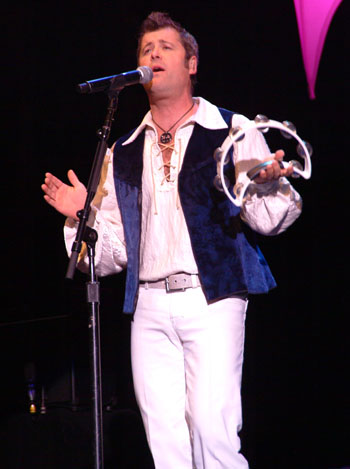 Oh Yes, oh No. First you leave an ailing Jon Anderson off the team sheet, callously substituting him with a tribute band singer...from Canada...and the French-speaking bit at that. Then you have the front to bring one of the Grumpy Old Man's lads off the bench to fill-in on Dad's cape-wearing duties.
To be sure, the omens were not good for Yes's latest visit to the Hammy Odeopollo. Would it be a true representation of the Yes we know and love, just Maybe or even a big fat No ?

In truth it was a game of offence and defence. On the one hand it presented a unique opportunity for the new line-up to dust down the Yes song-book to attack a fan-appeasing set-list of overlooked classics.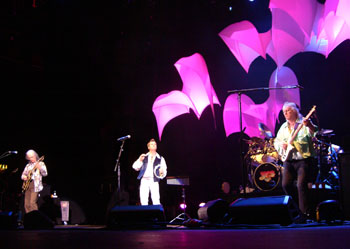 On the other hand, how on Middle Earth would the band defend the challenge of performing without the golden larynx and metacarpals of Most Valued Prog Legends Anderson and Wakeman?

From both perspectives, the gig was largely successful, particularly from a set-list point of view. From the trippy "Astral Traveller" from their Yesterdays to the sappy "Onward" from 70s break-up album Tormato via the dramatic Machine Messiah and Tempus Fugit from the short union between the boys from Buggles and 3 yes men.
The gig was a mass of contradictions. While Chris Squire's bass sounded a million dollars, Alan White's drums sounded distinctly plastic ono for most of the set. Steve Howe's guitar was precise, fluid and inimitable as ever, yet many of the keyboard patches in Rick's kid's arsenal sounded more blue square than premier league.

Stand-in vocalist Benoit David (that's right, not the other way round) while lacking the effortless warmth and charisma of Accrington's finest, did an admirable Jon-alike hitting all the dog-bothering notes with ease, showing both humility and enthusiasm for such hallowed material.

The real test for Yes v10.0 was how they gelled on the classic long-form songs. Things did not start well with a sloppy Siberian Khatru and a little too laid-back All Good People.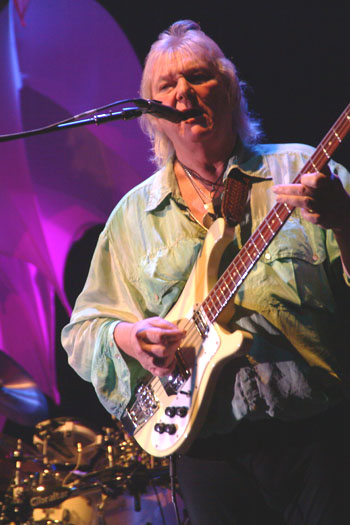 Things perked up mid-set with a most graceful Yours is no Disgrace. Sans-Jon, the imposing presence of bass goliath Chris Squire dominated, with his sweet backing vocals at times overpowering the boy David. This lent a new perspective to a number of tracks, such as as the divine South Side of the Sky, where the counter melody was more prominent that the lead vocal. Although not deliberate this was another intriguing aspect of the show.

The best was saved for last, with a perfectly pitched Heart of the Sunrise turning into the inevitable Roundabout, that finally got the increasingly appreciative audience on its feet.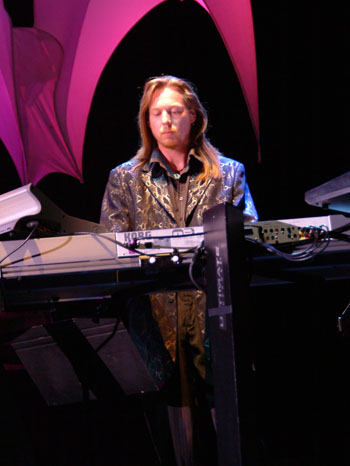 To deserving applause, the band returned for a cosmic Starship Trooper, where at last Rick's boy came good with a storming moogy solo that Dad would've been proud of.

So Yes, if you love the band's musical legacy, the show was a flawed yet satisfying spectacle. Anderson is easing himself back to match fitness with an ongoing solo tour, yet Wakeman declares on his website that "Yes is no longer a part of my life", so it remains to be seen if the "classic" line-up will ever join forces again. Maybe. For now, at least 3 out 5 ain't bad.

Set List
Intro (Firebird Suite)/ Siberian Khatru/ I've Seen All Good People/ Tempus Fugit/ Onward/ Astral Traveller/ And You And I/ Yours Is No Disgrace/ Steve Howe acoustic solo (inc. Sketches in the Sun)/ Owner Of A Lonely Heart/ South Side Of The Sky/ Machine Messiah/ Heart Of The Sunrise/ Roundabout Encore: Starship Trooper
Review by Andy Rawll
Photos by Noel Buckley
---