The festival that defined a generation gets definitive anniversary release...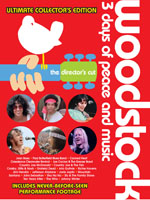 What else, you might say, can be added to the Woodstock canon? It was widely regarded as the sixties last gasp, three days of peace and music with a crowd of 400,000.
Now commuted into over 9 hours viewing, this "ultimate collector's edition" (4 discs) features the original film - "the director's cut" (4 hours) - and a comprehensive selection of 'featurettes' which give background on various aspects of the movie and the festival.
With the benefit of hindsight, some acts have worn better than others and of course for some it was more poignant, notably Hendrix and Joplin. You can't stifle mild amusement at Joe Cocker's performance, though, especially after seeing the YouTube 'Wonderloaf' interpretation.
The real bonus, however, is the previously unseen performance footage (an extra two hours) with amongst others Canned Heat, Santana, Hendrix and The Who. We also see those acts that never appeared in the original film: Mountain, The Grateful Dead, Johnny Winter, Paul Butterfield and Creedence Clearwater Revival.
If like me you quickly got fed up with the original split-screen approach which worked better on a very large screen, you'll be pleased that the bonus footage is untainted in this way. (For completists, a bonus featurette attempts to explain the "three panel" technique).
Rounded out by a number of interviews with the key movers and shakers, including director Michael Wadleigh, there really isn't a better time to grab the popcorn, or something stronger, and head to your nearest mate's audio-visual emporium where you can luxuriate in the remastered 5.1 sound. It is a definitive celebration of this event which in 2009 celebrates its fortieth anniversary. Mud bath optional. *****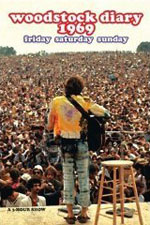 Woodstock Diary 1969 (originally a TV documentary made in 1994) chronicles the festival and the difficulties getting the event off the ground, interviewing Michael Lang and the main organisers. As with all great enterprises, the event very nearly didn't come about, with the organisers leaving themselves with less than six weeks after securing the site.
There is some duplication of footage in this three hour documentary by D.A. Pennebaker with the Woodstock Collector's Edition and it seems that the music footage is of those performances not included in the original film (but now in the collector's edition).
So, ultimately, this is for the Woodstock completists only. ***
Review by David Randall