Just witnessed your best live gig?.. send us a review!
WOLF/CAULDRON
London Underworld 9 October 2009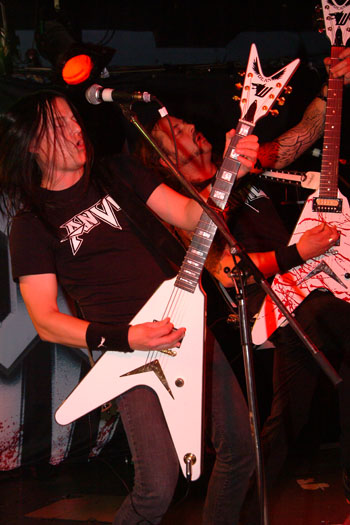 This was a gig that I was looking forward to very much. Two bands going back to the future reliving the glory days of the NWOBHM. Both bands are in their mid-twenties, first got into Metallica then worked backwards listening to those early influences of the San Francisco oilks.
Wolf and Cauldron dug through their elder brothers' record collections getting high to the sound of Diamond Head, Tygers Of Pan Tang and early Iron Maiden and are now bringing that sound to a new generation.
For such an occasion I proudly wore my Angel Witch T-shirt to the show and oddly enough, the first person I bump into is current bass player for Angel Witch Will Palmer. Time for a chat on all things metal.
I missed the English openers Elimination, but by all accounts these heavy thrash rockers delivered a good set and are a name to remember.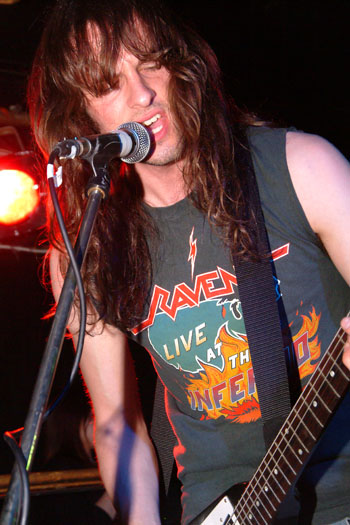 Toronto rockers Cauldron were first on of this double headlining billing. Looking like it's 1980 all over again. Guitarist Ian Chains looking very much the part with his flying V and vintage Raven t-shirt, this man has true metal in his chained veins. Singer and bassist Jason Decay sounds a little like how fellow Canadian Rush man Geddy Lee would sound if singing Iron Maiden tunes.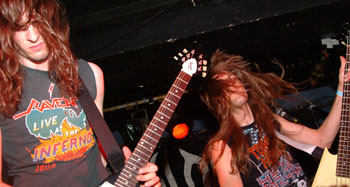 In true Spinal Tap style Jason Decay said ''This is a song about making noise and drinking beer....it's called 'Making Noise And Drinking Beer' '',to great applause we headbanged whilst not spilling a drop of beer to this cover of the Tyrant track.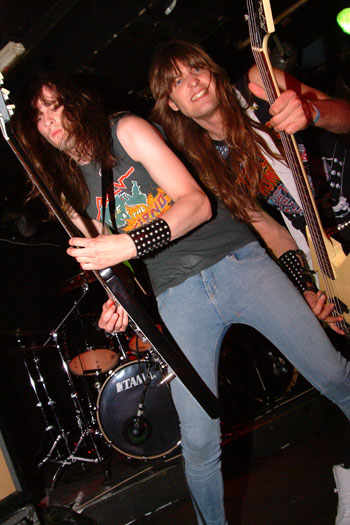 Many tracks were played from the debut CD 'Chained To The Nite' as well as three tracks from their 2007 'Into The Cauldron' EP. A highly enjoyable and authentic set from the Canadians.
Swedish rockers Wolf have gone through a 50% line up change since their 2006 release 'The Black Flame' but new guys bassist Anders Modd and drummer Richard Holmgren have fitted in like a hand in a metal glove.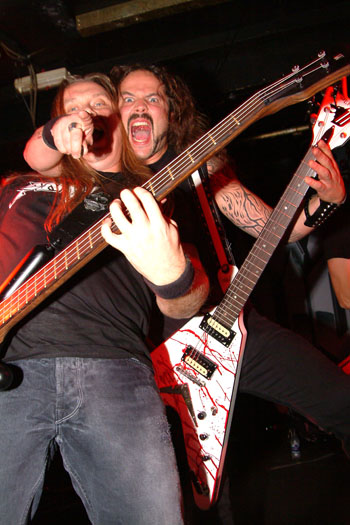 Tonight is a night about T-shirts as I was surprised when the band all walked on stage they were all wearing Anvil shirts playing homage to Lips and Co.
Opener 'Speed On' is a very Ravenous song (Hang on, that's also the title of the new CD). 'I Will Kill Again' with it's killer riff got the heads shaking. Singer and lead guitarist Niklas Stalvind at times sounding like King Diamond when reaching those high notes.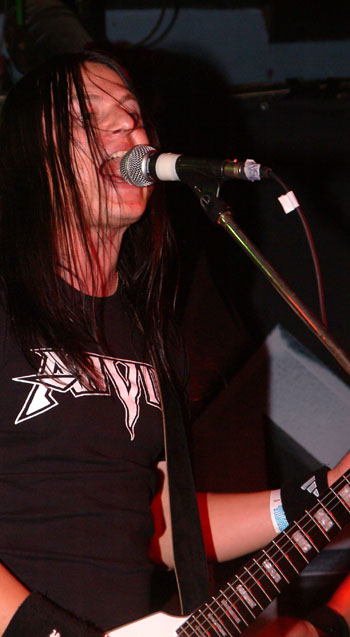 'Curse You Salem' is a great new track sounding like Iron Maiden on acid with it's heavy quick riffing and widdling from Stalvind and Johannes Losback. 'Voodoo' was pinned down perfectly.
It was all over very quickly. Like denim and leather Wolf and Cauldron go together. A good double billing, a great night of metal on metal.

Cauldron set list :The Striker Strikes / Young & Hungry / Conjure The Mass / Chained Up In Chains / Into The Cauldron /Making Noise & Drinking Beer / Midnite Hour / Torture's Too Kind / Last Force.
Wolf set list: Speed On / The Bite / I Will Kill Again / Hail Ceaser / Electric Raga /Curse You Salem / Voodoo / Genocide / Evil Star / Venom / In The Shadow Of Steel

Review by Mark Taylor
Photos by Noel Buckley
---