Just witnessed your best live gig?.. send us a review!
WILDHEARTS
Shepherds Bush Empire 1 October 2009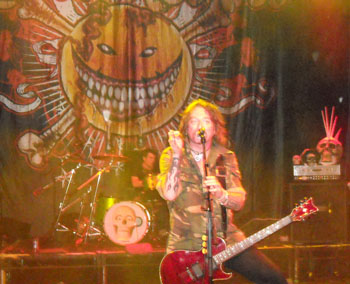 The Wildhearts were making a brave move on this tour by playing new CD 'Chutzpah' in it's entirety. Some gigs earlier in the tour it had left the audience a little subdued, but word of mouth had already reached the London fans, on this the last gig of the UK tour, and a party atmosphere was to insure throughout.
Upcoming new signings The Black Spiders put on an impressive support slot. Sounding like a cross between early Soundgarden and the departed Tokyo Dragons.
A band worthy of your attention but whether they have any longevity remains to be seen. I have a feeling that their career will go the same way as the Dragons, a lot of huffing and puffing but will soon run out of steam as it is hard to find exactly what fan base they appeal too. Catch them while you can. You can see more of the Black Spiders on the web.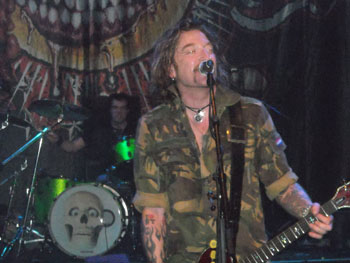 Playing a whole new album long into your career is a bold move. Iron Maiden did this a few years back and got away with it, and like Maiden the Wildhearts have a hard core loyal fan base who welcomed the band with open arms. I hadn't heard the new CD myself but still enjoyed myself with the help of liquid refreshment from the bar, and the Wildhearts were leaving me thirsty...hic...
Chutzpah means extreme self confidence and that's exactly what Ginger and his merry gang portrayed in the first half of this set, after which there was a short five minute break then wham bam we were suckerpunched with a rollercoaster of hits.
Classic after classic got us jumping up and down with glee, it seemed like the best encore ever. Ginger was in wonderland tonight.
A storming gig, once again the Wildhearts didn't disappoint. Next time the Wildhearts are in town, make sure you go where the people go.

Set list: The Jackson Whites/Plastic Jebus/The Only One/John Of Violence/You Are The Proof That Not All Women Are Insane/Tim Smith/Low Energy Vortex/You Took The Sunshine From New York/Mazel Tov Cocktail/Chutzpah/.....Nothing Ever Changes But The Shoes/29 x The Pain/Red Light,Green Light/Sick Of Drugs/Suckerpunch/My Baby Is A Headf*ck/A Geordie In Wonderland/Just In Lust/Caffine Bomb/I Wanna Go Where The People Go

Review and photos by Mark Taylor
---