WILDE STARR Arrival (2009)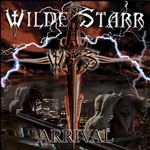 When two worlds collide...Or in this case, studio recording engineer, songwriter, vocalist and keyboard player London Wilde and Dave Starr - ex Vicious Rumours bass player, The pair teamed up in 2003, and with Dave handling all guitar parts, the duo released a demo in 2007. But it wasn't until 2008 that the line up was completed when Jim Hawthorne perched himself firmly behind the drum kit.
With a shared passion for classic rock - Lizzy, Priest, Dio and the likes, and Starr proving to be extremely proficient on guitar as well as bass, the band's debut album Arrival is something of a gem, with all the tricks of the gothic melodic rock genre present and correctly deployed.
With Ronnie James Dio style vocals, crunchy guitar work and solos in all the right places, each and every one of the 10 tracks on Arrival have hooks galore. And, naturally, there's plenty of Phantom Of The Opera, Hammer Horror preludes, interludes and generally hamming it up.
OK, it may not be original, but it's a wonderfully fun packed listen, ticking all the boxes necessary to merit nestling up to the current cream of the crop - Eden's Curse. And while Arrival may not have the killer hooks of EC's frankly brilliant, Second Coming album, it's in the same ballpark as much of the EC debut album.
And while London Wilde may not be the greatest vocalist ever, and Dave Starr may not be the world's greatest ever guitarist, in this genre, what's more important is song writing and presence. And Wilde Starr hit that nail viciously on the head. Time, and time again.
The whole package is greater than the sum of its parts and - as long as you take it for what it is - damn good tongue in cheek rock 'n' roll fun, then you won't be disappointed. Melodic goth rock par excellence.
***½
Review by Pete Whalley
---
| | |
| --- | --- |
| | Print this page in printer-friendly format |
| | Tell a friend about this page |