Festival curio for fans only...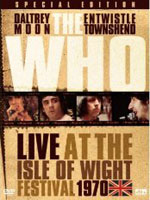 This legendary performance was originally only available in stereo, this Blu-ray edition has DTS-HD Master Audio and Dolby Digital 5.1 Surround Sound, created from the original masters and supervised by Pete Townshend and of course vastly improved picture quality.
This new edition of the 'Murray Lerners's film of 'The Who's legendary performance features newly restored pictures and re-mastered sound along with exclusive bonus features. Originally shot in 16mm film, the pictures have been restored to the highest possible quality for this release. 'The Who's set features virtually the whole of 'Tommy' and many other classics including "My Generation", "Substitute", "I Can't Explain" and "Magic Bus".
First things first before I write this review. I am not a 'Who' fan, neither have I have seen this footage before the release onto Blu-ray, which means I cannot compare the magic of this Blu-ray to the original 16mm film, yet I am excited to view this epic night in all it's glory.
Overpowering me within the first few minutes of this film, is the sheer huge crowd of 600,000 people, which sends goose bumps around my body along with a slight jealousy of what I missed. The stage is lit up with basic white light, there aren't any back drops and it's 2am, so faces of bemused high hippy's gleefully shine through the bounce back of the lights - oh what fun I had pointing out various grimacing faces, long unwashed hair and clothes we wouldn't been seen dead in for years to come.
Normally, Blu-ray videos are indeed in great detail, making you feel as though you are there in person; however, this video is still pixellated, which cannot be helped considering the way it was filmed 29 years ago. So don't expect a pristine picture or high quality sound. For me, the sound was indeed flat along with missing crowd noises that give you that 'Live' feel. Unexpectedly however, the crowd are very quiet - whether this is due to sheer amazement of what fronts them onstage, or whether they are too high to grab the context of what is happening at that moment in time, but the atmosphere is uncomfortable, I guess you would have had to have been there to understand the depressive mood. But this mood protrudes like a very sore thumb.
Roger Daultrey is in his prime, and wearing a sexy brown leather Swede jacket with tassels, without a shirt, gleefully showing off his mighty fine body. 'John Entwistle' is dressed in a skeleton suit, Pete in a groovy jumpsuit which was all the range in those days, and of course Mr 'Moon' is gurning like a Cheshire cat, yet is in form and slightly more enthusiastic than the rest of the band. Seeing them all close up in their prime is a treat for any fan who wonders what goes on onstage - Pete and Mooney enjoy several sniggers and poor old 'Entwistle' is barely filmed, I guess bass guitarists never get much of a good look in.
I must admit, as rock fan who isn't really into 'The Who' I did come up against slight boredom, I don't whether it is the atmosphere of the whole event, or whether 'The Who' are really bothered to be there at all. 'Pete' announces that the show is exactly the same as the year before, they are even wearing the same clothes, have the same road crew and the same set list. 'Pete' in my opinion has more onstage presence than Roger in this video and definitely portrays the fact that he doesn't want to up onstage at all. Yet he still shows off his skills, including the "helicopter" and of course his mighty fine finger work.
This leads me on to the bonus features of this disc, not too much, just 2 tracks that didn't appear in the original film "Substitute" and "Naked Eye", not really that much to get excited about, but my favourite bonus is an interview with 'Pete' who astonishingly announces his hate for the band and the real story behind that day at Isle of Wight; clearing up the reason for the some what shrivelled atmosphere of the event. And my favourite part of the night itself; a medley of "Shaking All Over, "Spoonful" and "Twist and Shout" making me get my groove on until the valued track "Pinball Wizard" slowly makes its appearance.
I was hoping for a delightful inlay booklet to be inside the DVD case, but I was saddened to only find a 2 page A5 pullout which only contains a small, yet very good, picture of the guys onstage. I wanted some fun facts about that day and maybe a history of the event.
I would only recommend this DVD to proper fans of 'The Who', as the fans will appreciate this more than someone who has no idea of what they got up back in the day! But saying that, any hippy from back in the day will also enjoy this release; just for the memory.
***
Review by The Fluffmeister