WHISPERWOOD Whisperwood (2009)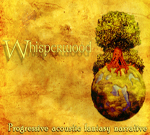 Conceived 20 years ago in Southern California by multi instrumentalists Dave Minella and vocalist/instrumentalist Dave LeVardi and brought to fruition with fellow multi instrumentalist Sean Lombardo and band members who include the startlingly talented violinist Jose 'Popeye' Villegas Ramirez and vocalist Heather Schorge, 'Whisperwood' is described as a 'Progressive acoustic fantasy'.
Part of the album's mission statement is apparently 'to discover personal connection to the natural world'. And while best approached as a holistic experience, 'Whisperwood' doesn't have the structure of say Tull's 'Thick As A Brick', the characters of 'Tommy' the surreal quality of Zappa's '200 Motels' or indeed the musical gravitas of one of the band's other influences Rush.
That is not to say the band can't play, for on the contrary they do have their moments, but these are on balance all too rare and come in between some fatuous narratives. In short you might ask the question where's the beef?
The story concerns the brothers Elric and Lokai who 'are opposites, yet counterparts and Whisperwood is ultimately the story of Lokai's redemption from vengeance to compassion'. Not sure what this all about? OK try this; 'Elric is young and longs for something more. He sets out to find the answer, and discovers that he didn't really need to go anywhere to figure who and what he is.
He does not return home to Whisperwood, but becomes a hermit instead'. If only the music was similarly succinct. For while this album has been a lifetime's passion for both Minella and LeVardi, 'Whisperwood' is too long with too many acoustic noodles, tiring link pieces and too many restatements of the theme that don't really add much to the better moments of an overdrawn project.
And despite its claims to being Prog rock, 'Whisperwood' is not Prog enough to satisfy rock fans and frankly not good enough satisfy critical folkies. The band may reference the likes of Jethro Tull and Rush but they have neither the songs nor the vocals or musical clout to emulate their heroes.
Certainly the band employ the required changes of tempo, texture and mood to add welcome variety to a plodding script and the occasional musical bursts do deserve repeated plays, but overall this album feels like taking a sledgehammer to crack a nut.
Much like Bo Hansen's reading of Tolkien back in the 70's this is a concept album that will doubtless find some die-hard fans who will live and breathe on every word. But they might have a problem as at times the narration is at times less than clear and the overlong acoustic meanderings give way some dodgy vocals that at worse finds Dave singing flat on the latter section of the opening 'Tale of Elric'.
But as with much of this album the lengthy songs also contain brighter moments with the spirited fiddle led tempo change and the belated switch to rock band mode at the end of 'Elric' being a case in point.
If 'Whisperwood' is inspired in part by Tull it needs saying that Ian Anderson used to stamp his personality all over his material whereas Dave LeVardi strains to make the best he can of a limited vocal range. He also has an annoying habit of extending vowel sounds and sometimes adds imaginary letters as in 'belie(hie)ve' as he tackles a plot better suited to a children's fantasy.
In fact Heather Schorge is a far better singer as evidenced on 'Ode To Elric (Muirigheal's Invocation)' unveiling a voice rich in timbre and with a real expressive quaver that lights the album like a beacon. Heather further adds a plaintive vocal on 'Listen To The Rain (Muirigheal's Lament)' and adds a welcome reprise of her quite beautiful voice on CD2's 'Sing Your Deeper Song (Muirigheal's Incantation)' and 'Last Adiue (Muirigheal's Bidding)'.
The band meanwhile evoke Jethro Tull's early career with some eastern sounding mandolin on 'Ode To Lokai' while 'Elvin Song' neatly picks out the melody line again and works its way towards a crescendo.
There's also a production blip as at the end of the vocal piece 'Never The Twain' which is followed by 8 minutes of silence before an impressive extra track 13 appears featuring some John Fahey style acoustic guitar and some exhilarating stop time mandolin.
CD 2 steps up the tempo with a startling Edgar Broughton style vocal mode before reverting to acoustic noodles while on 'Salad Days' Dave makes a better fist of the vocals in conjunction with some abrasive electric violin work. And as the band work their way through the tale of 'Whisperwood' you can't help but feel that the concept might be better suited to the theatre.
At well over 2 hours 'Whisperwood' takes an awful long time to get to its musical resolution on 'Flower In Your Meadow' while the subsequent closing narration and acoustic outro is another example of over egging the cake. joyable at times 'Whisperwood' needs a ruthless producer to trim the fat.
***
Review by Pete Feenstra
---
| | |
| --- | --- |
| | Print this page in printer-friendly format |
| | Tell a friend about this page |